It's been good to see people talking about the lack of opportunities for young people on the ABC in the past couple of days, prompted by this article in the Sydney Morning Herald.
"I don't think the ABC could be accused of not giving younger talent opportunities," the chair of the ABC board incredulously declared on the broadcaster's RN Breakfast program on Friday morning, in an interview pegged to Ageism Awareness Day.

With that simple statement Ita Buttrose, the most powerful person in the organisation, revealed how little she understands about the ABC's current programming slate, its trajectory, its growing disconnect from younger Australians who deserve a national broadcaster that caters to them and, perhaps most importantly, the experiences of its precariously employed younger workers.

The context for Buttrose's remarks was a softball interview on her own network that referenced a column in this masthead that argued the ABC's new chat show, Frankly, starring veteran RN broadcaster Fran Kelly, was a missed opportunity to take a risk on fresh talent, something the ABC used to have a reputation for, and to re-engage with younger audiences.
The article goes on to detail the ABC's recent history of failing to incubate new talent and reach young audiences, something its Chair doesn't seem to know:
Buttrose went on to say that "a lot of our comedy shows are hosted by wonderfully young people", but didn't name a single one. That's because there aren't any. There is not a single ABC TV comedy or panel show hosted by anyone under the age of 35.
This blog has long argued that the ABC needs to braver and more persistent when it comes to developing new talent and reaching youth audiences. It's four years since the ABC's last series of the pilot scheme Fresh Blood. And five years since the ABC launched Tonightly and John Conway/Aaron Chen Tonight. All three programs showcased a lot of young people; almost none of them have had regular gigs on the ABC since.
We know the ABC has suffered badly from years of Coalition budget cuts. And we know young people don't consume traditional media, but it seems totally against the supposed purpose of the ABC to barely attempt to cater for them. As for attempting to reach young people where they are – social media, watching streaming services, listening to podcasts – forget it!
Having said that, ageism in broadcasting, particularly when it comes to older women, is as much an issue as youthism, and it's good to see a woman in her sixties getting her own show. What we shouldn't see the ABC having to do is pick one under-represented group over another. All groups should get their airtime.
Based on its first episode, Frankly will be a decent chat show. The guests were a well-curated mix of much-loved entertainer (Shaun Micallef), local hero (Dr Richard Harris, who helped rescue the Thai football team stuck in a cave back in 2018) and relatable intellectual (astrophysicist Kirsten Banks). And Kelly, drawing on her years of experience interviewing politicians, went beyond the sort of "tell us about your book/album/Netflix special"-type questions you'd get on a commercial television chat show.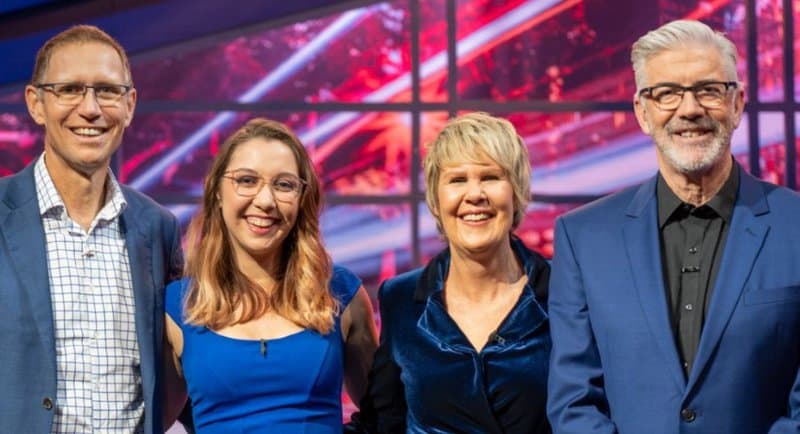 If you've been watching Parkinson in Australia on iView, you may spot a few similarities between it and Frankly. Although one of them isn't the duration. Parkinson in Australia can sometimes feel rather long, with some episodes lasting almost 70 minutes. Frankly, on the other hand, was almost too short at just under 30 minutes.
The interview with third guest, Kirsten Banks, who'd barely had time to give the basics on the fascinating topic of indigenous astronomy, was wound up almost as soon as she'd started, so that Kelly could give her closing remarks. It's hard to tell why. But it's hard not to bear in mind the ABC's age and race biases when considering the fact that it was the young, non-white guest who got the least airtime.
We don't have a problem with Frankly existing. Chat shows, done well, are a good thing. But we also need investment in genres like comedy and in talent aged under forty. Or else the ABC is dead.