While we'll all have to wait until next year to see Chris Lilley's exciting new controversial character, fans of Lilley-style comedy may already be enjoying Be Your Own Boss, the last of the Fresh Blood pilots to air (it's also on iView and YouTube).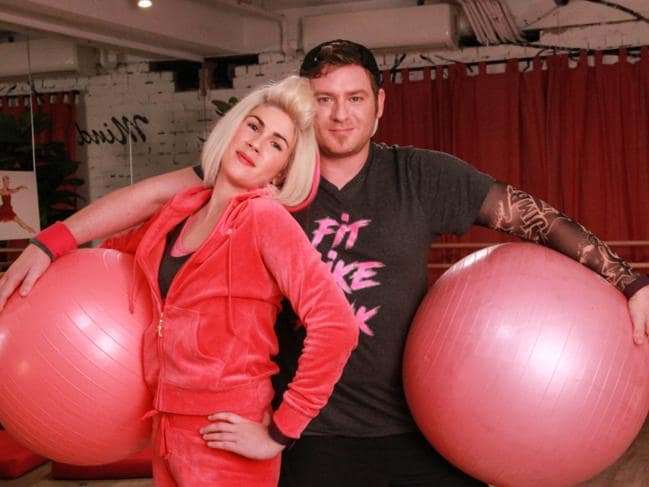 But first, let's clarify what we mean by Lilley-style in relation to Be Your Own Boss. What we don't mean is that it's a comedy where white people dress up as people of other races, or where people dress up as other genders or sexualities. We're talking about comedians playing multiple characters in the one show, and those characters being somewhat over-the-top. Maybe Anne Edmond's The Edge of the Bush would have been a better comparison…?
In Be Your Own Boss, Cameron James and Becky Lucas play three pairs of characters running small businesses in a shopping mall subsidised by the local council:
Husband and wife Jase and Chelle, who run a gym inspired by the singer Pink
Mother and son Paula and Angelo, who run a pet shop where the animals aren't in cages, and
Ashleigh and Ashley, two hipster "theatre entrepreneurs" who run drama workshops
Also in the show are Mel Buttle as Anne, a local council inspector who has to assess whether the three businesses deserve council subsidy ongoing, and Clinton Haines as Muskrat, a somewhat disturbing character who's the mall's maintenance man.
The action in this pilot switches between the three pairs, showing their attempts to make their businesses work – and to impress Inspector Anne. And, unsurprisingly for a Lilley-style show, the three businesses are somewhere between "outright dodgy" and "failing", the people running them are largely idiots, and the three sets of characters become irritating within seconds. Muskrat, meanwhile, only pops up occasionally, doing something a bit unhinged. He's probably the funniest thing in this.
What Be Your Own Boss does have in its favour is that unlike a Chris Lilley show, it's been scripted and thought through a bit rather than come about as a result of days of improv and weeks of editing. As a result, the show feels less laboured than a Lilley show, even if it's only about as funny. Unfortunately, though, the six lead characters aren't humans anyone would want to spend time with. They're the sort of people drama students invent to amuse each other when they're drunk, rather than the sort of characters that can sustain a sitcom. Their over-the-top screeching and mad schemes might seem amusing in a writers room, or an improv studio, but after 20+ minutes you want them to go away forever.
Having now watched all four of the Fresh Blood pilots, it's Why Are You Like This? that seems to have the most potential for a series. The characters are awful but they get their comeuppance, the topic of the show is timely, it was the most original of the four shows and the funniest. What did you think?