There was a moment in the final episode of Tonightly with Tom Ballard last night when Ballard rightly called out the people who've been saying that Tonightly only got funny after it was axed. And while the last few weeks of Tonightly have been some of the most interesting, experimental and spirited, Ballard had a point.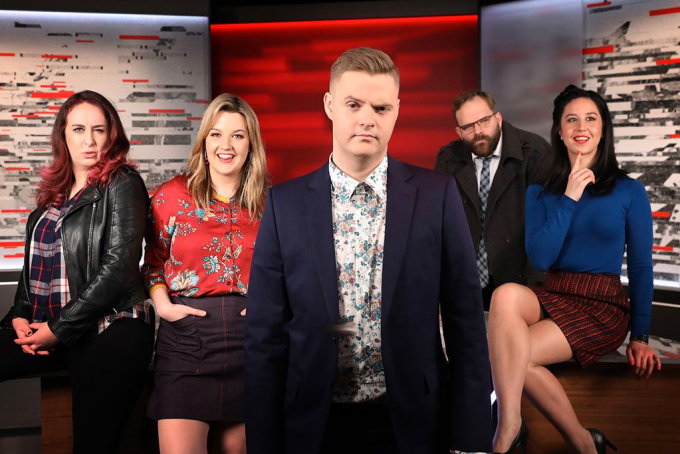 We've watched almost every episode of Tonightly, more than 140 of them, and in our view, it started out funny and it ended funny, with a lot of funny in between. And how many Australian comedy shows can you say that about? We'll wait… Now list all the Australian comedy shows that went to air multiple nights a week that you can say that about…
In the view of this blog, Tonightly, while far from perfect, achieved a huge amount that was positive in its nine months on air, and its axing is a great loss to anyone who likes satire, comedy, politics, current affairs or televised pissfarting about.
Tonightly was, ironically, the "fresh approach" the ABC wanted. It paired well-known faces with emerging talent, it had a majority female core cast, it opened its doors to guest presenters, stand-ups and musicians, and it featured stories on a wide range of issues from people of colour, the LGBTQI+ community, refugees, rural Australians, indigenous Australians, religious people, non-religious people, and politicians and activists from all sides. Name any other program that's been doing that.
So, why, after all that was it axed? Because the publicly-stated reasons were pretty vague.
One theory is that in the current climate of threats to either defund the ABC or slash its budget, and as a result of the ACMA investigation into that c-word sketch, the ABC was under pressure to kill the show. And while that's very possible, the more likely and more obvious – and certainly more provable – reason is that no matter how consistently interesting or good Tonightly was, not enough people were watching it.
If you're a public broadcaster airing a popular show and the government are asking you to axe it, it's easy to refuse. But if you're a public broadcaster airing a little-watched show and the government are asking you to axe it, it's hard to say no. Especially if it's life or death for your organisation.
So, why wasn't a good show rating? Was it the fact that it was on ABC Comedy? Was it the fact that its target audience of young people don't watch TV? Or the ABC? Perhaps the big problem here wasn't so much that Tonightly didn't appeal to young people but that the ABC are crap at building channels and platforms that young people will watch content on. Perhaps a greater investment in comedy for YouTube or social media may have worked better for the ABC than commissioning a comedy TV show. Perhaps those are the "bold approaches" the ABC intend to follow in the future? Just a thought.
So anyway, farewell, Tonightly, we enjoyed your work. Especially the way it's gone a bit weird and wonderful and don't-give-a-fuck in the past few weeks. We'll end this blog with two sides of Tonightly's diverse coin, the stupidest comedy character for ages, Mr Oily…
…and this blistering monologue from Tom Ballard that perfectly sums up the political events of the last week, and the last few decades. And demonstrates the importance of satire, alternative voices and public broadcasting. We ask again, where else can you find this in the Australian media landscape? Answer: Nowhere.