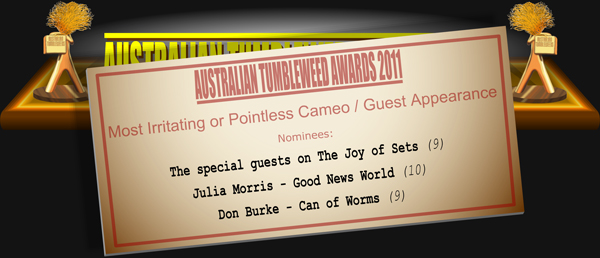 A special guest appearance from a well-known face should be a show highlight. Unfortunately special guests these days seem to be there purely to earn some easy coin or revive their careers. Don Burke's appearance on Can of Worms had all the hallmarks of someone attempting the latter – you could tell by his swearing and attempts to shock. Julia Morris has much the same tactic when she's a guest, except she's less about swearing and more about being a gabbling loud-mouth.
Mistakenly, The Joy of Sets gave over a third of its airtime to a special guest. This should have been a showstopper, sadly it just stopped the show. Dead. Instead of hilarious behind the scenes insights from an industry figurehead we got Deborah Hutton talking about…oh, we forget. Even Pete Smith with his decades of TV experience and noted wit didn't manage to shine. Those who went to the recordings say they were great and that the guests made the show. Which for us begs this question: what happened in the edit?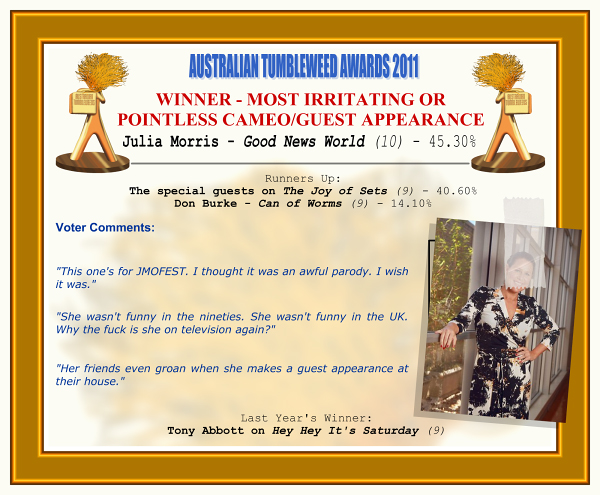 Julia Morris turning up anywhere – even that short film festival / self-promotion carnival she runs – is irritating and/or pointless, but to be irritating and/or pointless in comparison to Good News World? That's a far more impressive achievement than her victory on The Celebrity Apprentice.
THE RESULTS OF THE NEXT CATEGORY, MOST DESERVEDLY AXED OR SHUNTED-AROUND-THE-SCHEDULES PROGRAMME, WILL BE ANNOUNCED AT 5:30PM EDT.