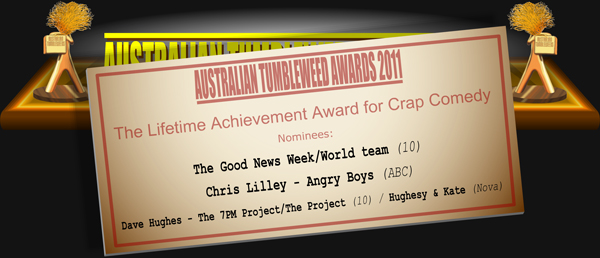 This is it – the big one. Not so much for a single year's work at making crap comedy as a concerted effort across an entire career, this award salutes those who, year in year out, go out of their way to make comedy that puzzles, annoys, and bores the Tumblie voters. Some might say these winners are often amongst the most popular comedians of the day; we say if popularity is your only guide to quality, enjoy your steady diet of Justin Beiber music, Twilight movies, Today Tonight reports on Centerlink-Rorting Tenants from Hell in Australia's Worst Street who can Save You Money On Your Power Bills… and, of course, the winner of this years Lifetime Achievement Award for Crap Comedy.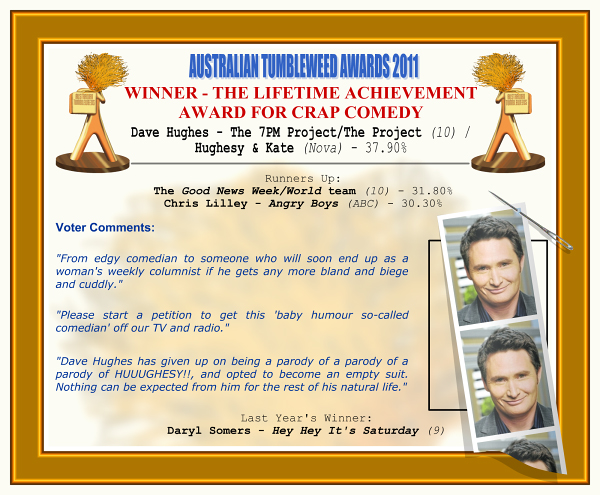 You have to take your hat off to Dave Hughes. A decade ago he was Australia's angriest comedian, constantly losing it for laughs on youth-orientated comedy shows like Rove and The Glasshouse. Then he sat himself behind the desk at The 7PM Project and started weighing-in on the big topics of the day, and now he's Australia's favourite dad, keeping us all up to date with the wonders of parenthood. And yes, those wonders may seen dull and trite to everyone who either has or hasn't gone through them, but at least he's out there forging new ground. It's not funny new ground or new ground to anyone but himself, but hey, let's not start expecting miracles here.
THE RESULTS OF THE NEXT CATEGORY, BEST NEW COMEDY, WILL BE ANNOUNCED AT 7:30PM EDT.