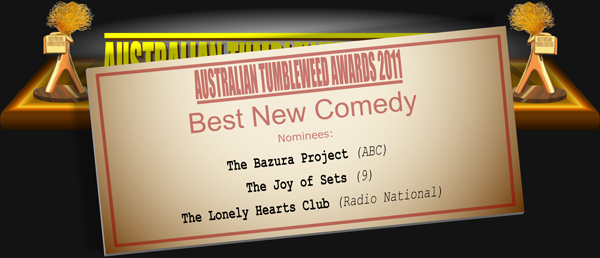 And now here we are – finally presenting some positive awards to the Australian comedy industry. This category is particularly special to our hearts, being about new talent and/or new ideas.
ABC-2's The Bazura Project took a different theme each week – Violence, Sex, Money, Profanity, Drugs and Fame – and showed interestingly, and (more importantly) hilariously, how that theme had featured in and influenced more than a century of movies. Part film buff's paradise, part sketch show, Shannon Marinko and Lee Zachariah's "Guide to Sinema" was a detailed and – we really must stress this again – funny look at the topic. It blew similar shows by more experienced talent, such as The Joy of Sets, completely out of the water, although The Joy of Sets did feature some excellent sketches.
The Lonely Hearts Club, was an obscure but joyous late-night experiment which showed that proper radio comedy shouldn't be forsaken in this country. In many ways it's a great tragedy that a good show featuring some of this country's finest comedic talent was barely promoted or acknowledged. On the other hand, it might not have worked so well if more of the callers had been aware of the joke.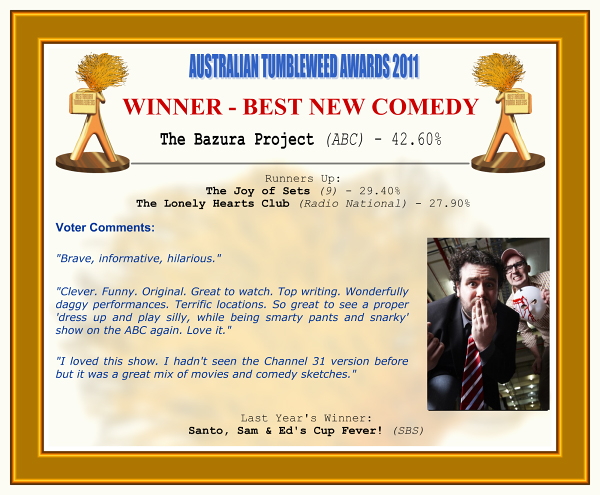 Sadly there can only be one winner of Best New Comedy, and we are pleased to announce that it is The Bazura Project. While it wasn't technically a new show, it and the team were new to most people. It was also an outstanding example of what a passionate team can achieve with a small budget. Sharp, silly and with a consistent commitment to putting funny before everything else, it was a clear comedy highlight of 2011.
THE RESULTS OF THE NEXT CATEGORY, BEST COMEDY, WILL BE ANNOUNCED AT 8:00PM EDT.