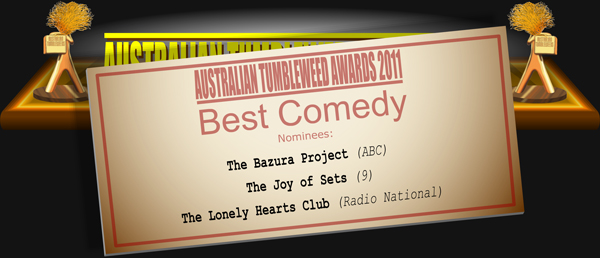 As always, the three nominees for Best Comedy have turned out to be three programs all but ignored by the Australian press. Not for them the weekly glowing reviews in the Green Guide that Laid got; no steady stream of cover features like the ones Chris Lilley enjoyed throughout the first half of the year. That's because these three programs actually made people laugh; what kind of a hook is that to hang press coverage on? Far easier to base your value judgements on set design, or being written by a hipster, or featuring a man in a dress. Unfortunately, that does mean you end up largely ignoring comedies that are actually funny, but hey – it's clearly a price the Australian media is willing to pay.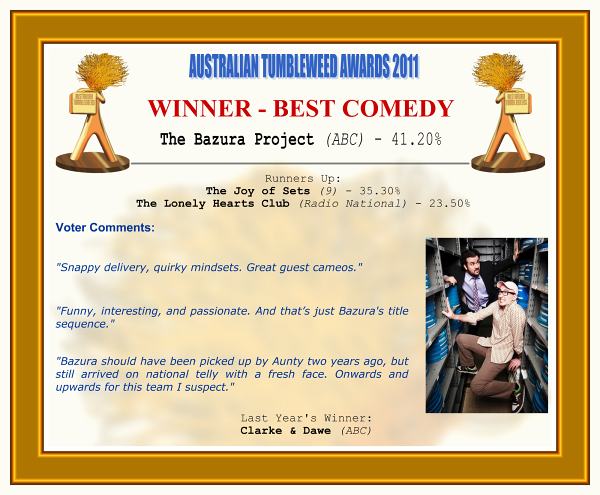 Well, this is a little embarrassing. It's one thing for a first-time show to win Best New Comedy, but Best Comedy as well? Didn't Tony Martin have a new television show out this year? It seems that being one of the few television comedies that put making people laugh front and centre has paid off for the Bazura team, as well it should. The Lonely Hearts Club was hilarious, but a low profile radio show was always going to struggle. The Joy of Sets quickly found its' stride, but a wobbly start and a format that worked against Tony Martin's natural strengths clearly put some voters offside. The Bazura Project just did everything right: funny, likeable, informative without lecturing or preaching, it turned out to be a near-perfect mix of smarts and stupidity. Whatever they're up to next, we can't wait to see it.
THAT CONCLUDES THIS YEAR'S PRESENTATION OF THE AUSTRALIAN TUMBLEWEEDS. KEEP FOLLOWING THIS BLOG FOR MORE COMMENTARY THROUGHOUT THE YEAR, AND DON'T FORGET TO FOLLOW US ON TWITTER OR LIKE US ON FACEBOOK.