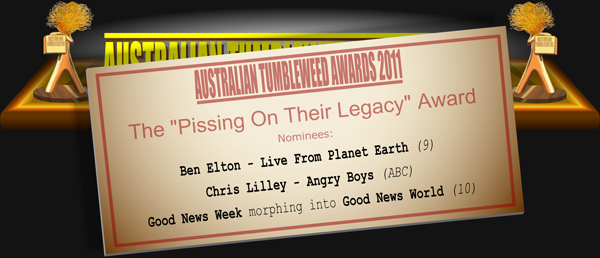 Legacies are a fragile thing in the "what have you done for me lately" world of comedy. They're also something that should constantly be on the line as you stretch yourself trying for new and greater things. It's when those things you're reaching for involve a surplus of dick jokes or dressing Akmal up as various world leaders that the general public's support tends to waver. And rightly so. Comedy should always be fresh and surprising, and we don't mean in a "how the hell did this get 12 episodes" sort of way.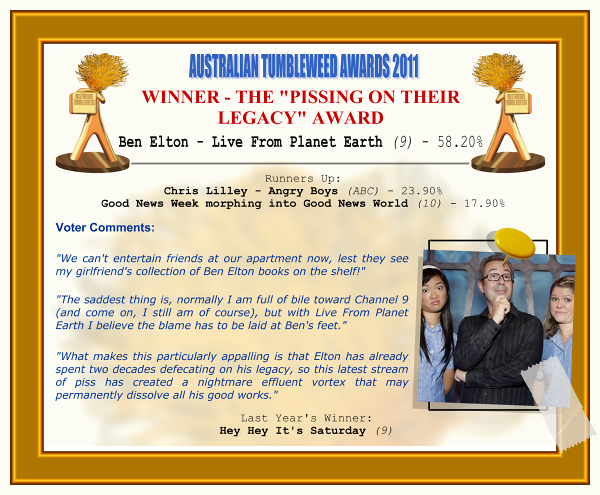 Unlike the other nominees in this category, Ben Elton had a considerable legacy to piss on. And that's still true even if you've been following his sinking comedy fortunes in the UK for the last decade or so. Ben Elton was and remains a noteworthy stand-up, he is responsible for co-writing a number of excellent TV comedies, and some of his novels aren't bad either. Unfortunately he also has a passion for pop music and stage musicals, and it is thanks to his recent involvement in those worlds that we saw such failings in Live From Planet Earth.
Schlocky song and dance numbers, lame gags and broad characters may be acceptable in We Will Rock You, which Elton co-wrote and directed, but it hasn't gone down too well on TV since Elton's boyhood and the last hoorah of TV variety. Elton gave numerous interviews responding to the criticism directed at Live From Planet Earth and he maintained that he was happy with the material he'd written. That's probably what Chris Lilley and the Good News World team would have said too if they'd ever been called out for their shoddy work. And if that's not an argument for decent script editors in this country then we don't know what is.
THE RESULTS OF THE NEXT CATEGORY, THE LIFETIME ACHIEVEMENT AWARD FOR CRAP COMEDY, WILL BE ANNOUNCED AT 7:00PM EDT.