Australian Tumbleweed Awards 2011 – Worst Non-Broadcast Comedy or Comedy Product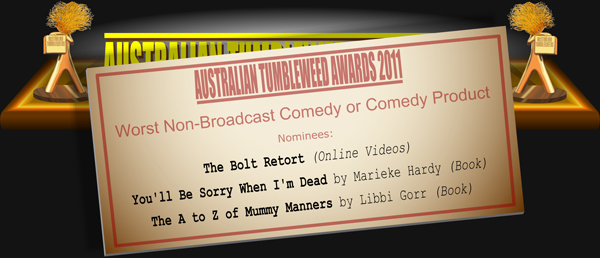 Last time we checked, The Bolt Retort's most viewed clip on YouTube had 1,623 views. The second most viewed clip? 206 views. So presumably not only did those 1,400 people not go back for a second look, they all came over here to vote for a (in our opinion, pretty funny) five minute show by Shannon from The Bazura Project pointing out inaccuracies in Andrew Bolt's show The Bolt Report. Hey, we just report the winners, we don't pick 'em.
Remember that time Libbi Gorr had Mark "Chopper" Read on her ABC talk show? We do. Oddly, we couldn't find any mention of that in The A to Z of Mummy Manners, her twee guide to making friends with the parents of children your children are friends with. Seriously, why bother? Most parents we know just want someone to look after their brats for a few hours, not a freakin' soul-mate.
Marieke Hardy makes a living by talking about herself. At the heart of everything she says and does in the public eye is the conviction that it's interesting because she's the one doing it. Maybe she's right? 50,000 twitter followers can't be all wrong. Or even all actual people.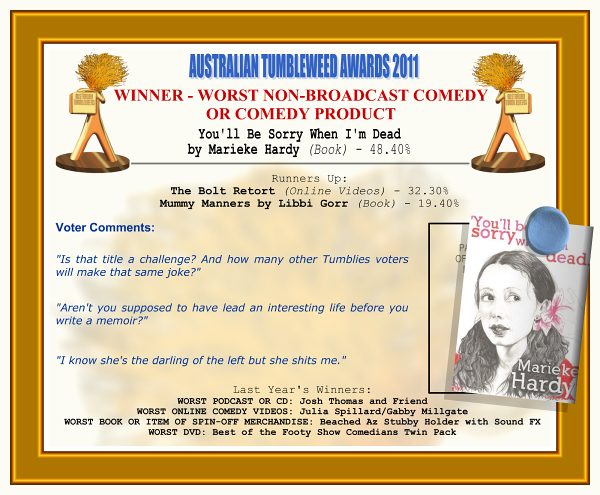 The continuing rise of Marieke Hardy is no doubt a delight for both Ms Hardy and the large number of people who wish they were her. For those trapped in an outdated way of looking at books, newspaper columns and television – as something providing the public with more than just the author's efforts at self-promotion – it's all a bit of a puzzle. Writing a book about your various mildly salacious relationship escapades (group sex, hiring prostitutes, etc), putting a picture of yourself on the cover, then inviting those you've written about to comment suggests levels of self-absorption barely sustainable by people who've actually achieved something with their lives. And we're talking here about someone whose greatest achievements to date involve reviewing books on television and flashing their breasts.
THE RESULTS OF THE NEXT CATEGORY, WORST COVERAGE OF COMEDY, WILL BE ANNOUNCED AT 4:00PM EDT.
Similar Posts
Australian Tumbleweed Awards 2011 – Best Comedy
As always, the three nominees for Best Comedy have turned out to be three programs all but ignored by the...
Australian Tumbleweed Awards 2011 – Best New Comedy
And now here we are – finally presenting some positive awards to the Australian comedy industry. This category is particularly...
Australian Tumbleweed Awards 2011 – The Lifetime Achievement Award for Crap Comedy
This is it – the big one. Not so much for a single year's work at making crap comedy as...