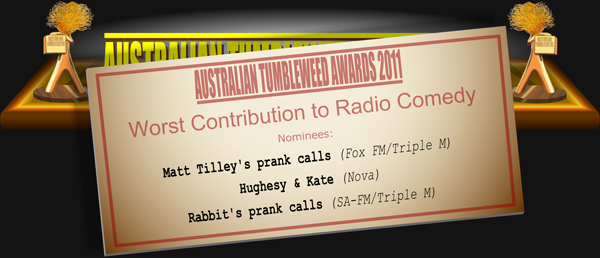 Over the years we have resigned ourselves to the fact that the comedic aspirations of commercial radio stations extend no further than idiotic yammering and prank calls. Matt Tilley is of course the ultimate exponent of this, successfully combining the two on an increasing number of Austereo breakfast shows. Over in Adelaide, Rabbit from the SA-FM breakfast show is doing much the same.
Hughesy & Kate of Melbourne's Nova are more focused on the yammering side of commercial radio comedy; trying to grab attention with their loud-mouth tomfoolery as their half-listening audience spoon cereal in to their mouths, gets the kids organised or travel in to work. As such it is hard not to interpret Ed Kavalee's decision to leave their show as cut and dry editorial comment. Making films that never seem to appear in cinemas or appearing on a sports panel show has got to be better than hanging out with them.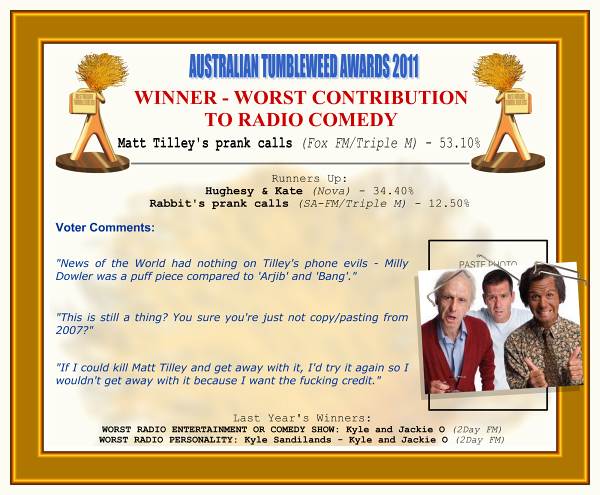 On the one hand it is hardly worth analysing the work of Matt Tilley. He is basically just a man putting on stupid accents and trying to make someone get angry by bullying and haranguing them. If you find that sort of thing funny you'll be pleased to hear there's lots more of it coming up in 2012. We, on the hand, have been somewhat disturbed to find ourselves nostalgic for the days when Merrick & Rosso would leave a message on people's answering machines from Dr Sarkis Kockoff – at least there was wordplay in that one.
THE RESULTS OF THE NEXT CATEGORY, WORST NON-BROADCAST COMEDY OR COMEDY PRODUCT, WILL BE ANNOUNCED AT 3:30PM EDT.