Who knew Chris Lilley still had the power to make us laugh?
In the heat of the Black Lives Matter movement, Deadline can reveal that Netflix has removed four shows from controversial Australian comedian Chris Lilley from its services in Australia and New Zealand.

Angry Boys, Summer Heights High, We Can Be Heroes, and Jonah From Tonga have all been taken down after featuring characters that have in the past sparked questions over racial discrimination. The shows were originally made by Australian producer Princess Pictures for the ABC.
Remember when people took Chris Lilley seriously? Bet there's a lot of critics around the world working hard to scrub their many, many glowing reviews of his "work" from their resumes. And if they're not, they really should be, because it's not like nobody noticed at the time that his blackface shit was offensive – they just thought that was part of the joke.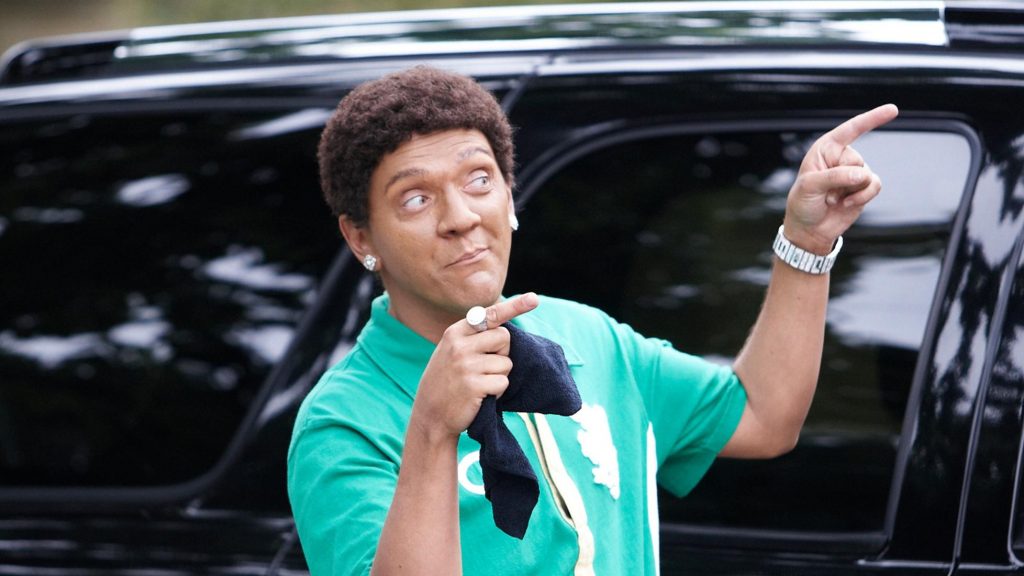 This 2011 interview in The Atlantic is particularly awkward to read in 2020 – maybe not as awkward as this 2008 story in The Age (or even this Age review from 2014) – but this bit is worth quoting in full in case it mysteriously vanishes:
With S.mouse, you've been criticized for "exploiting the history of race relations for a cheap laugh." Is that a common reaction to your portrayal of S.mouse, who appears in blackface, or Jen?

Well, Australia has a thing where apparently it's fine for me to dress up as an Asian woman. No one has questioned that. But there was—which I totally expected—there was a bit of an outcry about me playing a black person. And also, my shows are meant to be a bit provocative and I like that kind of television that shocks you. But the thing is, I think a lot of people just saw the trailer and then they started writing about it but they didn't sit down and watch the episodes. When you get to know S.mouse, it very quickly becomes not about a guy wearing blackface. It's a character. It's sort of irrelevant that I'm black. It's about him being home on house arrest and lost in the commercial music industry. There's a lot more heart to the character by the end of the series. Yeah, but that stuff just sort of came and went in Australia. It's completely predictable and obvious. And then funnily enough, in the UK there was no issue at all. They just completely got it.
Better dump a few more statues into the harbour quick.
Being the humourless scolds that we are, we jumped on the "Chris Lilley isn't funny" bandwagon before there even was one.* Because there isn't really one now: keen-eyed readers will have noticed that nobody's saying Lilley wasn't funny, they're just saying that the blackface (and yellowface) antics he based his entire career on are currently offensive. Obviously blackface was just as offensive fifteen years ago, but at the time his fans just thought that was part of the joke. Safe to say that view has not held up.
Unlike just about every other comedian currently in trouble over their past blackface antics, Lilley was never trying to say or do anything with or around the idea of blackface. To his defenders (presumably he still has some), he was never doing blackface at all – just playing a range of comedy characters that happened to be black, or Islander, or Asian, or female, or (stereotypically) gay, or socially disadvantaged, or… anyone else starting to see a pattern?
Chris Lilley's entire "comedy" act – and we'd argue his interest in comedy was marginal at best; he just liked pretending to be minorities and comedy was the only way he could do that – was based on the idea that seeing a white male pretending to be a minority was intrinsically funny. And if that wasn't the case, then was exactly was the joke?
Time and time again Lilley was praised by critics for the "realism" of his performance. But if realism was what people were tuning in for, why wasn't Jonah played by an actual Islander kid? Were there literally no black actors available who could capture the subtle nuances of S.mouse? You can't read an article about Ja'mie without someone praising Lilley's accurate portrayal of a teen bitch; if the joke there isn't that a teen bitch is being played by a mid-30s man, what is it?
Most of the time, most of the comedy that gets slated for blackface was at least somewhat aware that blackface is offensive. Sometimes they were trying to say something about a character that would willingly don blackface; sometimes they were just trying to use it for shock value. But Lilley was (hopefully) the last comedian we'll see who used blackface completely unironically; he was a white man who wanted to pretend he was black, and people laughed because that was funny to them.
Those critics who were quick to praise his work ("The sort of comedy he wrote in Summer Heights High was dangerous and provocative and raw", for fucks sake) better scrub a little harder.
*just look at anything here with a "Chris Lilley" tag – they're pretty much all negative**
**that said, this is probably the best one to read if you're in a hurry