Is Frontline Australia's all-time best comedy? Of course not: why would you even suggest such a crazy thing? Oh wait:
The critics have spoken.

Frontline is Australia's all-time best TV comedy.

TV Tonight has asked some of the nation's top TV critics to choose their favourite Australian comedies* -either sitcoms or sketch- with Working Dog's 1990's satire on current affairs emerging at #1.
We've been reeling from this nutty result all week – ha ha, only joking, going by half the critics surveyed the real shock is that Hey Hey It's Saturday didn't end up on top (and going by the other half Laid really missed out) – and while our somewhat more full-throated reply to the whole nutty enterprise is on it's way (or not, depending on how depressed we get at the whole thing – seriously, The Letdown at number 8? Get fucked), this definitely did inspire us to ask the question: Why do people keep saying Frontline is Australia's best comedy ever?
Now, if they were saying that Frontline is Australia's all-time best sitcom then sure, no real argument here. Well, maybe a little – The Games is funnier and smarter – but for pretty much the entire history of television the word "sitcom" has been a term for a show that, while funny, isn't amazingly all-time funny, and that suits Frontline down to a T. The very idea at the core of the sitcom is repetition (hence "situation comedy"), and as repetition is the enemy of comedy (jokes don't get funnier the more times you tell them), sitcoms are usually more comfort food than laugh-out-loud hysterical. Hit sitcoms are just as likely to be Two and a Half Men or The Big Bang Theory as they are The Larry Sanders Show or Fawlty Towers; most of them aren't even trying to be seriously funny.
So sitcoms are one thing; claiming that Frontline is Australia's "all-time best TV comedy"?  Yeah, nah. Shaun Micallef's sketch work is better; Working Dog's previous series The Late Show is better; John Clarke & Bryan Dawe's work together is better; The Gillies Report was better; the very best episodes of Fast Forward or Full Frontal were better; that joke about "This is for 9/11" in Fat Pizza: The Movie was better oh wait that wasn't a television comedy but you see where we're going here. Your top ten Australian comedy moments are better than Frontline because those top ten moments almost certainly didn't come from Frontline.
Again, don't make the mistake of thinking we're slagging off Frontline here. Frontline is a great sitcom – maybe not as consistently funny as the first season of Very Small Business or the second season of The Katering Show, but still up there with the greats. You know, like Mother & Son, which was the sitcom that topped these kinds of lists until its fans finally started to die off. Just don't mention that Australia's "all time best comedy" is basically a mix of Drop the Dead Donkey and The Larry Sanders Show.
What Frontline is, more than any of the other shows on this list, is Drop the Dead Donkey filmed like The Larry Sanders Show safe. Saying Frontline is Australia's greatest comedy doesn't start a discussion, it ends it. Nobody today watches Frontline – shit, it's a show about the media that predates the internet and is about an Australia that a): has current affairs television and b): has male hosts of current affairs television, so rest assured it's probably not as "timeless" as it's claimed to be – but everyone knows it's quality television. So why not say it's the all-time best comedy to come from this country?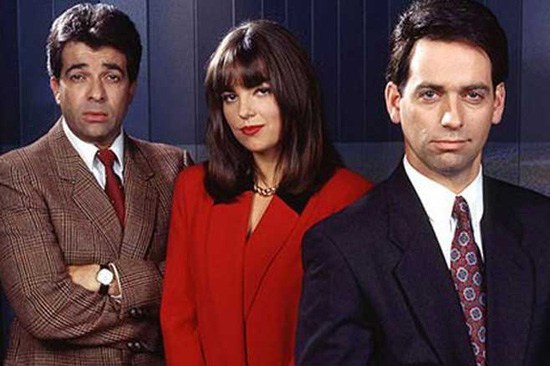 Well, for one thing, it's pretty bloody depressing to think that the best comedy made in Australia was made a generation ago. Seriously, has nothing has been funnier on Australian television screens than Rob Sitch in a wig? More than most art forms, comedy is of its time: so the best Australian comedy in 2019 is one packed with in-jokes about Stan Grant hosting Today Tonight and Mike Willesee calling up a man who'd taken hostages in a siege? That Glenn Ridge cameo is timeless comedy? Kids today are still into Christopher Skase?
Michael Lallo from The Age said, "A quarter-century after its debut, this note-perfect satire of TV current affairs – and Australian journalism in general – still feels remarkably relevant."
And sure, if you're the last person with a full-time job at The Age it probably does feel relevant. Unlike The Age. You know why media types still love this relic from an era before streaming, before the internet, before newspapers went to shit and the few people who still cared about news started getting it from #auspol? Because it reminds them of a time when they were still relevant enough to have decent television shows made about them. You know what recent Australian sitcom had jokes about working at a newspaper? Mr Black. Hmm, that doesn't seem to be on this list.
Frontline is a solidly made, clearly intelligent show that isn't even the funniest sitcom made by Working Dog (that'd be Audrey's Kitchen). Twenty five years later, the only possible reason to put it at the top of a list of all-time comedy greats is if you hadn't actually enjoyed, let alone laughed at, an Australian comedy this century and had no real desire to find out if anything new might change that.
Considering all the voters on this poll have to watch Australian television for a living, we shouldn't have been surprised.