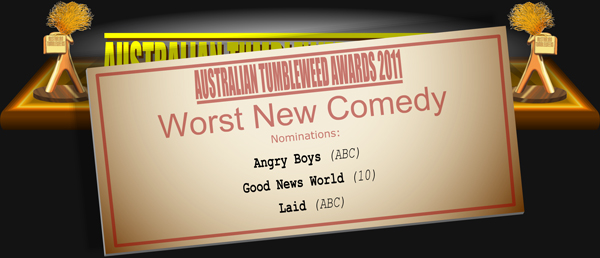 With short episode runs and rapid axings preventing a lot of new talent from getting any real experience before being thrown onto the main stage, new comedy usually deserves a bit of slack. Unfortunately, this year the new comedy on offer was either the same old output from people who'd been at it a decade or more – Angry Boys and Good News World – or a series from a long-time media professional whose idea of hilarity involves calling a gynocologist "G-Bomb". With nothing fresh to say and no real idea how to say whatever it is they wanted to say, all three series here are worthy nominees – and, no doubt, the people behind all three will be finding work on Australian television for years to come.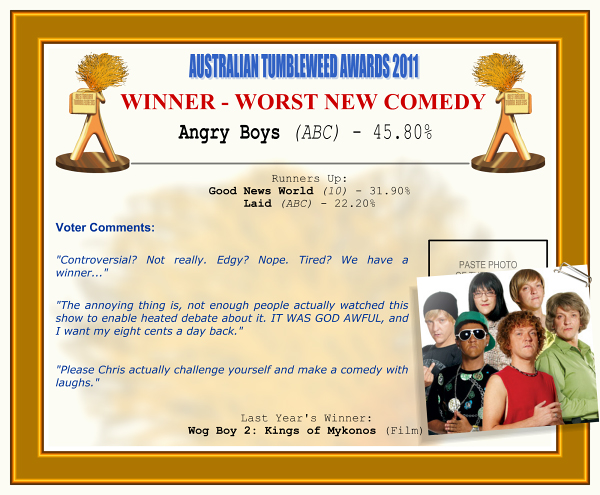 A song titled "Poo On You". A line of fashion accessories called Gay Style that come in penis-shaped bottles. A running joke involving a teenager urinating on his twin brother. Extensive discussions about replacing a man's shot-off testicles with fake ones. A song titled "Grandmother Fucker". A water bottle shaped like a penis. A song titled "Dick On Your Shoulder". One teenager complaining constantly about his brother's masturbation habits. "Skateboarding Gay Style". Pissing in a Gatorade bottle and trying to get someone to drink it. A diet built around regular farting. "Sneaky Nuts." Dog wanking. Chris Lilley is a comedy genius how exactly?
THE RESULTS OF THE NEXT CATEGORY, WORST COMEDY PERSONALITY OR PERFORMER, WILL BE ANNOUNCED AT 11:00AM EDT.