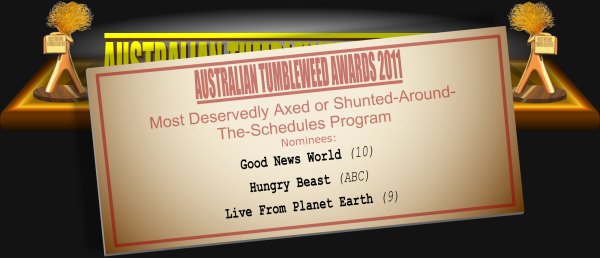 Sometimes a show's just gotta go. Live From Planet Earth and Good News World were instant failures and their respective axings weren't much of a surprise, even if the latter's took a long time coming. Hungry Beast on the other hand managed to last three series, which is pretty good for a show of its type and quality. Those involved were really lucky to have been chosen for it, making their howls of protest when the show was axed seem more than a little disingenuous.
The result of this category, however, is far from disingenuous. More a sledgehammer-obvious statement of 100% dissatisfaction.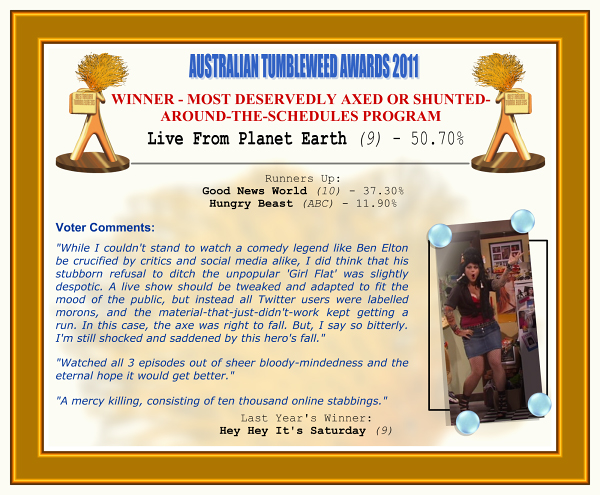 Live From Planet Earth isn't exactly a surprise winner in this category – its name will be a byword for comedic failure for decades to come – but it's debatable that it was more deserving of the chop than Good News World. Good News World was an equally poor program which also got slaughtered on social media, it just happened to stay on air because it was on a lower-profile network who currently have a policy of sticking rigidly by any new show…until it's obvious even to them that they totally messed-up.
THE RESULTS OF THE NEXT CATEGORY, THE "WHAT HAPPENED TO THAT?!" AWARD FOR COMEDIES WHICH FAILED TO APPEAR, WILL BE ANNOUNCED AT 6:00PM EDT.