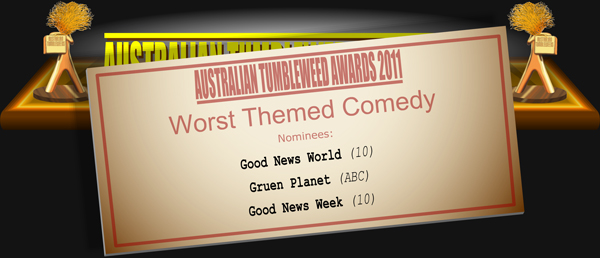 Australian comedy has a hard enough time getting laughs when absolutely anything is fair game: why would you purposely limit the targets you're swinging at? Which is why, on even the briefest of examinations, it's clear that while all three shows in this category claim to have firm targets in sight, they always just end up cracking jokes about anything they feel like. And good on them for it. If they'd just get around to cracking funny jokes, they might have something worthwhile to offer.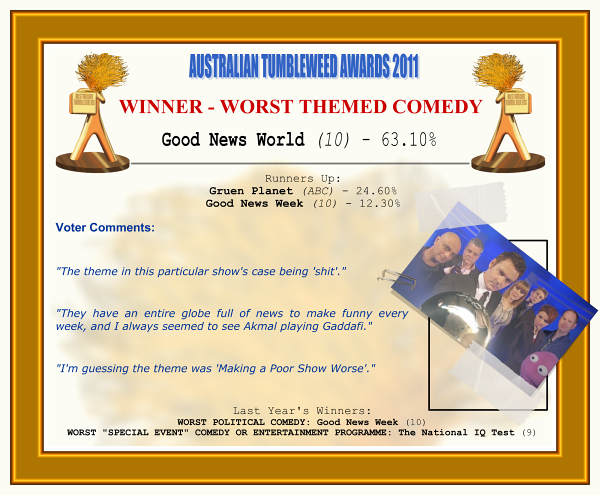 Paul McDermott is a great comedy host. He's charming, he's expansive, he's got a great singing voice. He's not someone who comes off all that well when he has to share the spotlight though, so one of the many, many mystifying choices that came from turning the stale Good News Week into the failed Good News World was to have him conduct bogus interviews and appear in sketches. And then there were all the other mystifying choices which would take at least three thousand worlds to list here so let's just boil them down to "give Sammy J & Randy their own show and fire everyone else out of a cannon".
THE RESULTS OF THE NEXT CATEGORY, MOST IRRITATING OR POINTLESS CAMEO/GUEST APPEARANCE, WILL BE ANNOUNCED AT 5:00PM EDT.