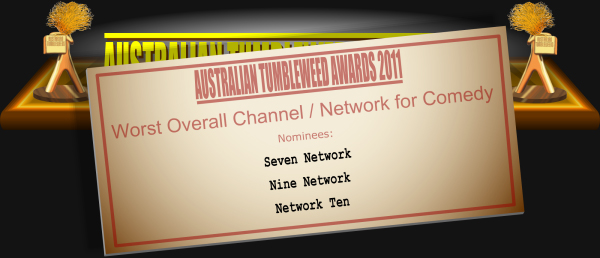 All three commercial networks have been doing their best to make Australian comedy a no-go zone for years now. Ten may have made a concerted effort to at least show some comedy, but Talkin' 'bout Your Generation has trapped Shaun Micallef in an increasingly tired game show and Good News World was an insult even to the fans of its previous, almost as dull and predictable incarnations. Seven left comedy well alone in 2011, which isn't going to get any complaints from us after the string of rapidly cancelled quasi-game shows they tried in previous years, and Nine… well, their heart was in the right place.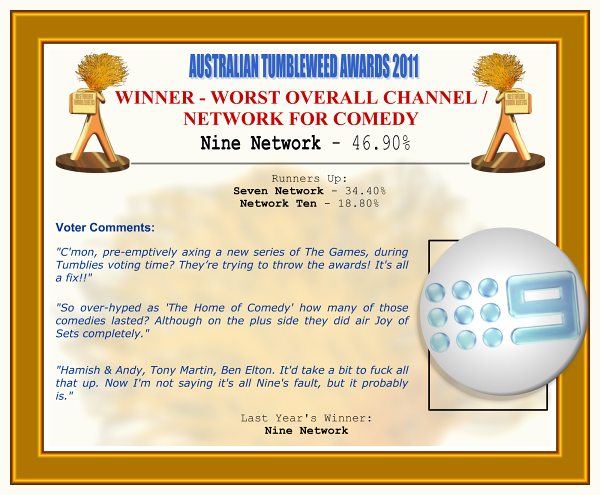 Nine tried to get into the comedy business in 2012 in a way no commercial network had tried in more than a decade. They hired big name stars, they promoted the hell out of them and they put them on in prime time where people could actually see them. Unfortunately, they did all this on Channel Nine, the oldest-skewing of the networks and the one where viewers – families and old folk, in the main – had the least possible interest in being made to laugh. Hamish & Andy's Gap Year kind of worked, thanks to a massive pre-existing fanbase and a general likeability that didn't scare the oldies away; nothing else really stood a chance.
THE RESULTS OF THE NEXT CATEGORY, WORST CONTRIBUTION TO RADIO COMEDY, WILL BE ANNOUNCED AT 3:00PM EDT.