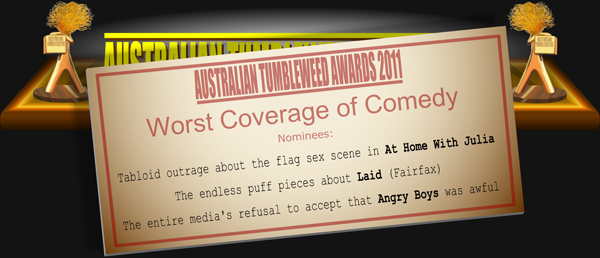 Ah, for the good old days, when the Australian media would desperately latch onto the slightest whiff of controversy about a show or comedian and never let go until someone was sacked or taken off air for a few weeks. These days even Marieke Hardy having to cough up $13,000 for "outing" the wrong man for being responsible for a disgusting hate blog barely rates a mention. Of course, the Fairfax press couldn't say enough good things about her or her series Laid, so maybe that's a bad example. But if the Murdoch press couldn't find it in their hearts to seriously rally the troops around a comedy where a fake PM had fake sex on a real Australian flag, the sun had clearly set on the days when the Chaser were (metaphorically) spitting on sick kiddies with every sketch.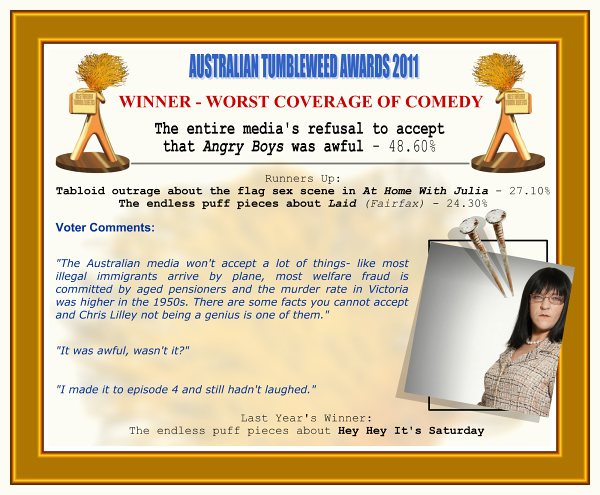 To be fair, there were a few reports on the ratings slide for Angry Boys, but for the most part the media had so firmly jumped the gun with their praise of Chris Lilley (remember that story in The Monthly calling him a genius? How about the one in The Age calling him a genius?) before Angry Boys aired they couldn't point out the fact it was a flop without looking like they didn't know what they were talking about. It's interesting to note that while the claims that Lilley is a genius are still loud and strong, the example now used to back that claim up is the older (but ratings-winning) Summer Heights High. Man, there must be a lot of commentators out there praying that Angry Boys turns out to be a blip in Lilley's career and he re-connects with audiences when his next series arrives in 2018.
THE RESULTS OF THE NEXT CATEGORY, WORST THEMED COMEDY, WILL BE ANNOUNCED AT 4:30PM EDT.