We Interrupt This Broadcast continued this week with more parodies of First Dates, Love Island, and the like, but with a few new things brought to the table too. Although don't get too excited, the new things were parodies of reality shows they haven't already covered. The Masked Singer! RBT! Millionaire Hotseat! The Bachelor!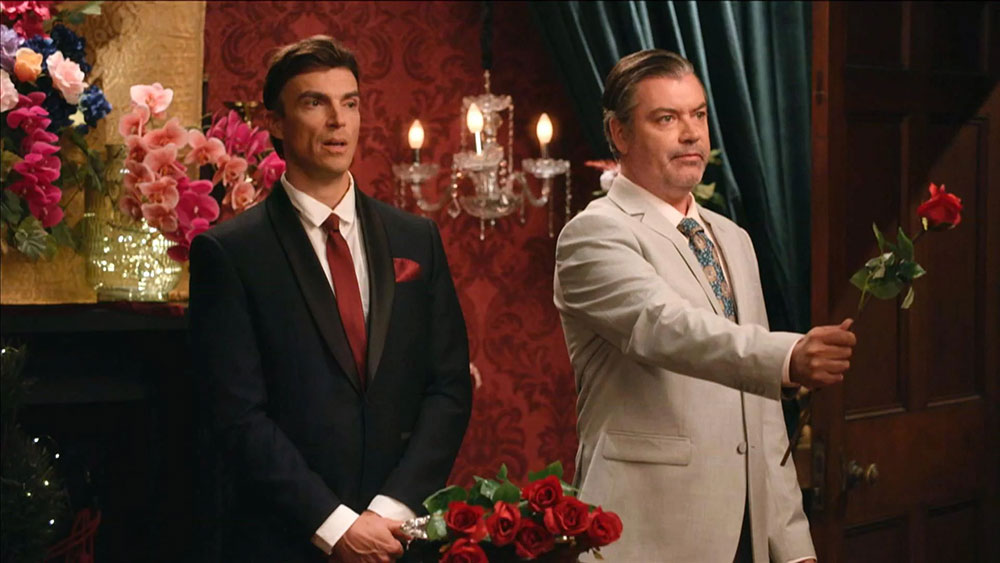 Some of the sketches on the show demonstrate that there's a commitment from the makers to try and do something funny and a bit different; the sketch about an episode of You Can't Ask That featuring clumsy people was only a few seconds in length but raised one of the best laughs of the episode. Sadly, another You Can't Ask That sketch, featuring a Dungeons and Dragons player, resulted only in a predictable and groan-worthy punchline. For a better-used groan-worthy punchline, which acknowledged its lameness, see the Border Security parody featuring Gandalf.
But back to that commitment to try and do something funny and a bit different. Aunty Donna's Broaden Kelly is well-used in a Border Security sketch questioning whether a woman who's just returned from Bali really will continue with the relaxed Balinese lifestyle now she's back home. Christine Whelan Browne (Mad As Hell) is a stand-out as a full-of-herself contestant in various reality show parodies, and Greg Larsen (Tonightly) gets a chance to shine in the Footy Show parody Small Desk Big Boys. This recognisable take-down of boof-head sports panel shows is a welcome change of pace from the relentless spoofs of actual TV shows – and having the token woman panellist called just "Woman" brought a welcome element of satire.
But even with the widening of the pool of shows spoofed in We Interrupt This Broadcast, some sketches are starting to feel worn out already. It's probably not necessary to make any more Play School 1958 sketches if every week it's just the presenters doing something that we know better not to do now. Similarly, the Bridgerton parody Fridgerton seems destined never to progress beyond just having some fridges dressed in period costumes.
It would also be good if the writers moved beyond some of the well-established cliches (Costa has a big beard!) and tried to think of some punchlines that weren't someone vomits/eats something gross. On the other hand, the show bothered to get Lawrence Mooney on to do his Malcolm Turnbull impression, so it does contain occasional surprises.
Is this a great show? No. Is it worth watching every week? Probably not. But there's still a sense, no matter how slight, that someone, somewhere in the team is trying to do something which isn't the same five ideas over and over again. And in the context of a commercial TV comedy, that's quite something.