There are two basic approaches to screen comedy in 2022: comedy, which is 100% aimed at making the audience laugh, and dramedy, which contains a mix of comedic and dramatic elements. Long time readers of this blog know which approach we favour, which is why the announcement of a new comedy is cause for celebration, and the realisation that a newly announced comedy might be more of a dramedy is a real letdown.
Speaking of which, here's an announcement we saw recently on TV Tonight:
ABC this week announced a new six-part comedy series Limbo described as a compelling, honest and charmingly funny story about how hard it is to let go of those we love – especially when they're taken too soon.

Produced by Bunya Productions (Mystery Road, The Drover's Wife) and Heiress Films (Man Up, Making Couples Happy), Limbo is created by writer Lucas Taylor (Harrow, Vikings: Athelstan's Journal) and directed by Trent O'Donnell (No Activity, The Letdown, Brooklyn Nine-Nine).

Todd Abbott, Head of Comedy for the ABC, said, "From the moment I read the first scene, I knew this series was something very special. Finding genuine comedy in grief is no mean feat, and this talented team has delivered scripts with the perfect balance. We're really excited to share these characters and this very relatable story with Australian audiences."

Screen Australia's Head of Content Grainne Brunsdon said, "Limbo is a smart and relatable comedy with a powerful message at its heart about friendship, mental health and grief. We're pleased to support Heiress Films making their first foray into scripted content and working together with the excellent team at Bunya Productions this is set to be a high quality Australian series."

Screen Queensland's CEO Kylie Munnich said, "Screen Queensland has supported this project since its inception, via a major development initiative as well as funding Lucas Taylor's residency at the Charlie's Writers Lab in Los Angeles, where the script was further refined with Trent O'Donnell (pictured). We're delighted to see this poignant and important story come to life, soon to commence filming in Queensland."

Producing team David Jowsey, Greer Simpkin and Jennifer Cummins said, "Bunya Productions and Heiress Films are delighted to be working with the talents of Lucas Taylor and director Trent O'Donnell to create a rich comedy about love and loss and the relationship of two young men whose friendship gets real once the real walls disappear."

When Charlie's best friend dies at just 38, Charlie suppresses his own pain in order to support his mate's widow and young daughter. But he is soon forced to face his own demons when the ghost of his dead friend begins 'haunting' him. There are no levitating tables or flying books, but confronting the spectre of loss is the scariest thing Charlie's ever done. The only comfort is that he's facing it with his charming, witty and garrulous best mate by his side – albeit in apparition form.
People expecting an Australian version of Ghosts (episodes of which were directed by Trent O'Donnell) should perhaps move on, as the sort of words peppering this announcement ("honest", "poignant", "charming") indicate that Limbo won't be so much about belly laughs, more exploration of grief and mental illness with the odd gag. So, exactly like almost everything else the ABC has made recently, then.
Occupying the other side of the comedy coin, in the sense that there's nothing poignant about this series, is the new YouTube series Shut Up, starring Debra Lawrence (Please Like Me) and Celia Pacquola (Rosehaven).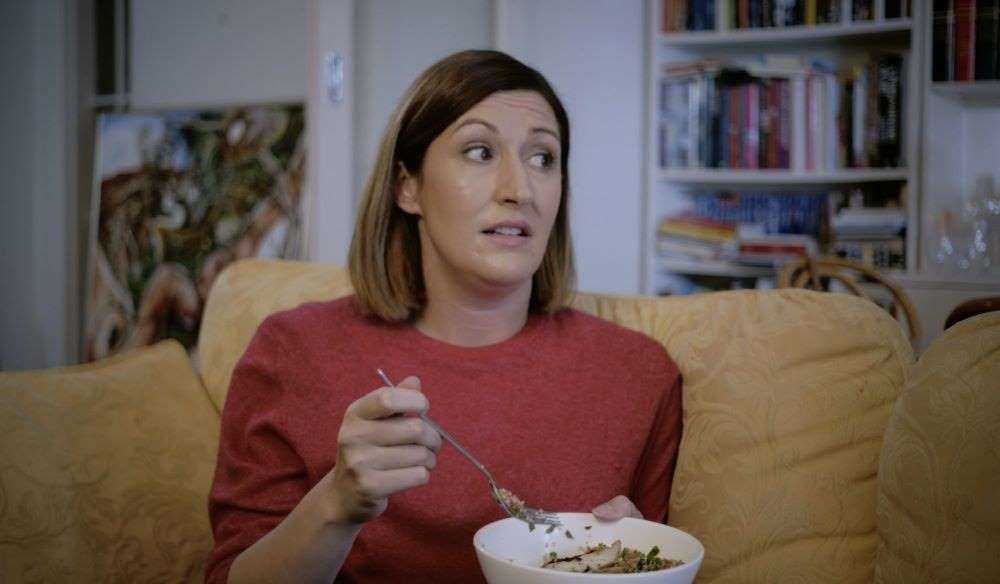 Written and created by Sarina Rowell and directed by Tony Martin (a pair who last collaborated on the podcast sitcom Childproof), Shut Up is a spot-on portrait of the relationship between a Boomer mother and her daughter. Across six, five-minute-long episodes, we see Marian (Lawrence) and Sybylla (Pacquola) meet at Marian's to catch up and watch TV together between lockdowns.
Most of the laughs come from the clashes between the two – bored, relatively-affluent, pushy, obsessional Marian versus world-weary cynical Gen-Y Sybylla – although there are plenty of asides about classic cinema, trash TV and pop culture to enjoy as well.
And while there's an undercurrent of many of the issues you get in dramedies (mental illness, generational tension) the point of the show is to make you laugh rather than move you, which is always a good thing as dramedies often struggle to get the balance right and end up being dull (i.e. the Trent O'Donnell-directed The Moodys). But there's no time to be dull in Shut Up's five-minute-long episodes, so the action moves along at a swift pace. So, if you're looking for short sharp laughs, you could do worse than giving it a try