Hannah Gadsby's memoir Ten Steps to Nanette is the sort of autobiography you write when you suddenly shoot to international fame for one thing, in this case, the ground-breaking stand-up show Nanette. As such, Gadsby, who's been a well-known comedian in this country for more than a decade, spends most of the book setting the scene for her new fans who weren't aware of her early stand-up shows, her comedy art criticism, In Gordon Street Tonight or even Please Like Me.
Even for those of us who have been familiar with her work for years, and knew she was one of the best local stand-ups out there, it wasn't necessarily a given that she'd become a worldwide sensation. Australian comedians, no matter how good, rarely make it further than Edinburgh. So, spending most of this book on the decades it took to write Nanette is essential. You don't just win an Emmy out of nowhere.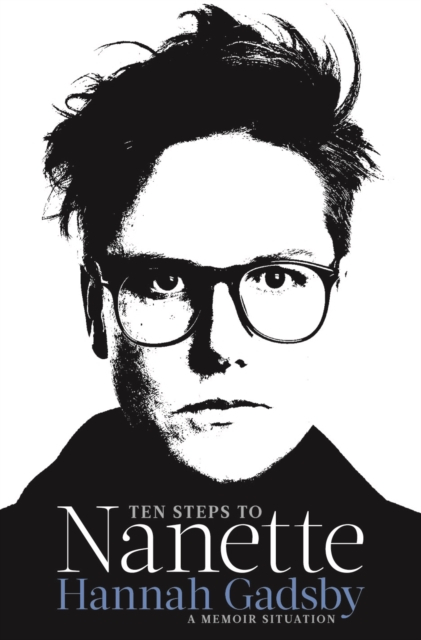 With Nanette, many commentators suggested, Gadsby re-wrote the rules of comedy. There were large parts of the show which didn't contain jokes, she discussed the most traumatic events she'd ever experienced with astounding frankness, she spent ten minutes "calling bullshit on the patriarchy," and she timed it beautifully as she happened to be touring it at the height of #MeToo. She also re-wrote her own rules about what she was and wasn't prepared to do on stage, namely, to be the butt of the joke anymore. No wonder she freaked out a lot of comedians who worked by the established rules of comedy like "keep them laughing" and "never get serious."
In the first chapter of Ten Steps to Nanette, Gadsby takes us through the praise and criticism Nanette received and gives her reaction to both. She's not that fond of either, it seems, or of the instant fame she garnered. "The few months that followed the release of Nanette were amongst the strangest and most unsettling of my life," she says. "I went from relative obscurity to intense visibility in such a short period of time that I sustained spiritual whiplash."
It's then that the book becomes a more conventional and chronological autobiography, in which Gadsby takes us through her childhood and adolescence in rural Tasmania, followed by a move to Hobart, and then the mainland. If you're roughly the same age as her, you may enjoy the references to schoolkids receiving a Bicentennial coin, her brief interest in stamp collecting and her recollections of the dumb drinking games popular with first-year uni students. More universal are the tales of schoolyard bullying and feeling awkward as an adolescent because you're overweight or not wearing the right clothes.
Then Gadsby shows us the dark side. Against the backdrop of the struggle for the decriminalisation of homosexuality in Tasmania in the 1980s and 1990s, Gadsby reveals her struggles with her sexuality and gender presentation. She also drops just enough hints, without forcing us to live the awful details, of the many ways in which men groomed, abused, and assaulted her. Her expertise at taking an audience from laughter to tension to tears, the hallmark of Nanette, is once again on display here.
She also writes incisively about her struggle to understand how she should be. She knew she wasn't "normal" but neither she nor anyone else around her knew why or what to do it about. The drip-feed of hints at her later diagnoses of ADHD and ASD is written with great clarity and real insights into what it's like to be neurodiverse.
There's also plenty for comedy nerds, with a deep dive into how Gadsby crafts her shows, particularly all the effort that went into Nanette. The sweat, tears and breakdowns may seem a surprise if you've seen how skilled Gadsby is on stage, but, then again, she didn't pull that Emmy from anywhere. She worked hard for it, and she lived it.
This is also a book that, as you'd expect from Hannah Gadsby, is witty, compelling, and expertly crafted. Ten Steps to Nanette documents a lifetime's work, and what a life it's been! And as Gadsby's shown more recently with Douglas and Body of Work, there's plenty more of it to come (just hopefully without the bad bits).