Lorin Clarke's Would that be funny? Growing up with John Clarke is a book about growing up with John Clarke as your father. Let's get the suspense over with: having Clarke as a dad seems to have been exactly as awesome as you'd expect. The portrait of him here is the kind of thing you'd think was too good to be true if it wasn't exactly how he came across in pretty much everything he did in the public eye*.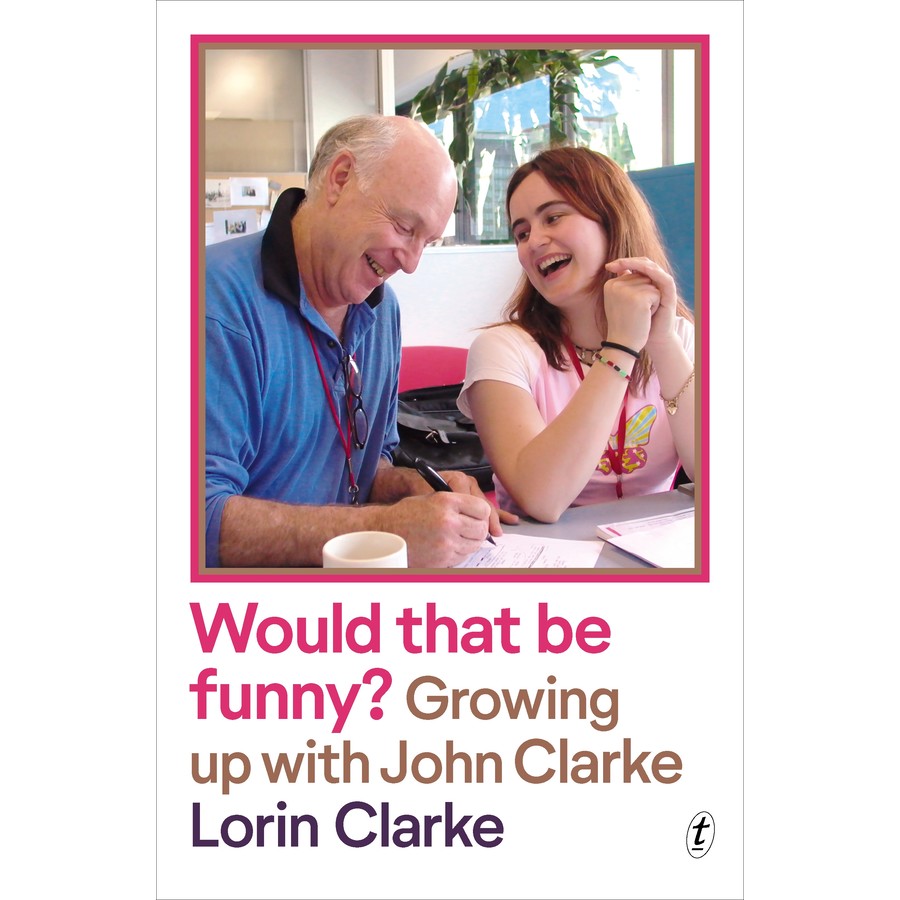 Lorin herself is an author of no little renown, and so one of the many themes running through this book – again, to get the suspense over with, it's great and you should purchase a copy immediately – is how growing up with a master storyteller helped guide her to her current career.
And why wouldn't it? John Clarke made telling stories and being actively engaged in the world and all it's silliness seem like the most magical thing there is. Clarke was a man who got authentically excited about floorboards and nails: you'd be a fool not to want to get in on that action.
Beyond Clarke himself, it's a picture of a family, complete with in jokes and references you had to be there to get. Only you don't have to have been there, as there are plenty of short chapters that are basically listicles running through things like "Expressions we stole" and "Things at which my parents are stratospherically bad at".
There's also plenty of anecdotes, excerpts from Lorin Clarke's own Fitzroy Diaries series, the backstory behind jokes from Clarke & Dawe interviews, voicemail transcripts / poetry, and so on. It's the best kind of grab-bag.
The family portrait thing goes both ways in time, as Lorin grows up, changes schools, reinvents herself, discovers the joy of writing, studies politics in Boston and has a family of her own. We also learn about John Clarke's own, somewhat less happy childhood and youth (don't worry, it all works out in the end). Lorin is at pains to point out that her father shied away from reductive explanations as far as what drove him to write and perform; a "sad clown" he was not.
We could go on. There's a lot happening here – we haven't even mentioned Lorin's mother, a well-known academic who wrote a book about eroticism in art, or Lorin's sister Lucia – and if you're even remotely interested in writing, making television, the work habits of one of Australia and New Zealand's greatest comedy talents, being thoroughly entertained or just cosy memoirs about family life then once again it's time to say this is great and you should purchase a copy immediately.
Because you're here, we're going to assume your main interest in this book is John Clarke, writer and sometime performer. You'll be pleased to learn this is a vivid and insightful look at a very funny man, one that somehow manages to make the most likable person on Australian television – okay, not a high bar to clear, but still – even more charming and funny.
And yes, for comedy nerds there's loads of gold here. Peter Cook gave John Clarke the idea to do the Clarke & Dawe interviews on television! That's reason enough to buy the book right there, and that's just something we chose at random. Throw in his influences, dealing with the ABC, snippets of his unpublished writings, the way he priced the Fred Dagg album at half the usual price because he knew a lot of his fans were kids, and this is a well worthwhile deep dive into the work of one of this region's comedy greats.
(also, this isn't a book that starts at the start and works it's way through to the finish. Chapters about John Clarke's school days are still turning up towards the end; don't think you can just find the single solitary section on comedy and put the rest aside)
More importantly, this provides a vivid sense of what John Clarke was like as a person. The man in these pages is chatty (an understatement), fond of poking fun, caring, loyal, interested in people, not someone who tolerated fools behind the wheel, a man who once almost mailed his address book (which, as you can imagine, was a book with a lot of private contact details) to Frankston by mistake and a person whose commitment to being casual and relaxed occasionally went a little too far.
And yes, in between the consistently evocative writing and the sharply observed family portraits – there's at least three generations under the microscope here, with marriages ranging from acrimonious to deeply loving – there's something of an origin story here for the John Clarke that entertained the antipodes for decades.
With a sense of humor shaped by friends and family (especially, and surprisingly, his parents-in-law), and often uncertain of his abilities early on but surrounded by support, Clarke life is presented here as (amongst many, many other things) a reminder that often it's the people around an artist who bring forth the art.
Would that be Funny? is both adoring and authentic, the kind of clear-eyed, open-hearted writing that's a privilege to read. Whether you're a lifelong fan of John Clarke or couldn't pick him out of a line up, this book is a delight.
.
*well, maybe not the evil property developer he played in Crackerjack