And so the Logies have been and gone for another year, and we're asking: how did comedy (and Tom Gleeson's campaign) fare?
Tony Martin was in the voiceover booth once again and got a largely positive reaction from the viewers. Although a few grumbled on Twitter that he didn't go Mick Molloy when Molloy appeared on stage with Jane Kennedy. Yeah, because reviving a 13-year-old fight is absolutely what a grown man should do in the middle of a live broadcast where almost no one watching would know what BoyTown Confidential was. That and maybe, you know, he's over it now?
Meanwhile, the Logies, as ever, handed out awards to a slightly odd mix of personalities and shows from the world of comedy…
And it's only in the increasingly weird world of the Logies that Luke McGregor would receive the Most Popular Actor award, beating five of this country's most-loved male performers. Especially as McGregor isn't really acting in Rosehaven, more playing himself (and arguably not even doing that very well).
Celia Pacquola, who was nominated in the Most Popular Actress award, also for basically playing herself in Rosehaven, was beaten by Deborah Mailman (Mystery Road).
In other comedy news, Gogglebox beat Gruen and Hard Quiz in Most Popular Entertainment Program but Have You Been Paying Attention? beat Gogglebox and True Story with Hamish & Andy in the Most Outstanding Entertainment Program category.
Have You Been Paying Attention? also won Most Popular Comedy Program, beating Hughesy, We Have A Problem, Rosehaven, Russell Coight's All Aussie Adventures, Shaun Micallef's Mad As Hell and True Story With Hamish & Andy. Maybe not the best result ever, but at least The Weekly wasn't even nominated.
Speaking of which… Tom Gleeson, as predicted, won the Gold Logie. Of course, he did. Loud-mouth idiots and loud-mouth idiocy are de rigour right now: Trump, Brexit, the Federal Election… Isn't it brilliantly hilarious to vote for the joke option?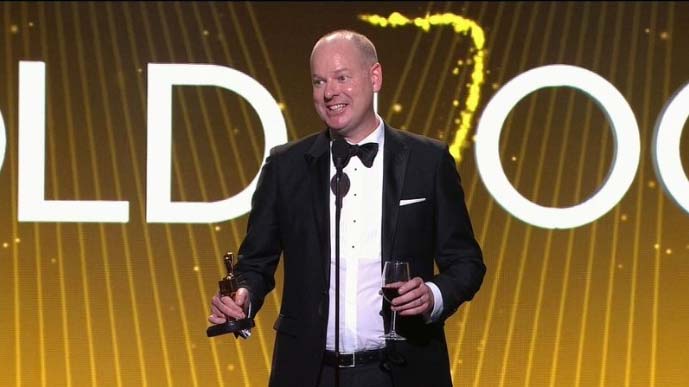 And Gleeson's Gold Logie campaign was presented as the kind of joke that you couldn't really argue against – after all, the Logies are crap and full of TV hosts who're clearly a bit up themselves, so why not take the piss out of them? To which we reply: good luck seeing anyone try the same thing at a sporting awards night, even though they're equally crap and sportspeople are in general at least as far up themselves as your average TV host. Awards nights are always a bit crap no matter what they're for, and the whole idea behind them is to give people a pat on the back; the Logies might be a bit shoddy, but that's how awards night work.
The real problem with Gleeson's campaign was that he wanted it both ways: he was a piss-taking comedian who wanted people to vote for him to show the Logies just how much of the joke they were, yet he also said:
You say I'm a disruptor but I also have a legitimate claim to the prize because out of all the Gold nominees I'm pretty sure Hard Quiz rates the most
But if you run as a joke then you win as a joke; all awards are meaningless unless people give them meaning – good luck waving your [insert arthouse cinema award here] around at some sporting club and vice versa – and if your method of getting votes is to actively devalue the meaning of the awards ("this award is a joke so vote for the joke candidate") then you can't then turn around and try and claim your win means something. An industry in decline is an industry that lets Tom Gleeson win a Gold Logie? We'd say it's the other way around.
Also, what exactly was the joke? Saying that the Logies is a popularity contest is a joke in the same way that stating the totally obvious is a joke; "these celebrities need to be taken down a peg" isn't so much a joke as it is something someone says before throwing a rock through a car window. "Wouldn't it be funny if professional dickhead Tom Gleeson won the Gold Logie" seems to be the extent of it, only Gleeson is going around talking about his "legitimate claim" to the prize so that can't be it. Maybe the joke was just it was a great way to promote Tom Gleeson, which is why we decided not to write anything about his campaign until after the Logies was over.
This whole thing was a joke in the same way as pretty much everything Tom Gleeson does is a joke, which is to say it wasn't really a joke at all. Gleeson wanted a Gold Logie, and he figured acting like a prick would win him one. And why not? It got him steady TV work once his days as the "ginger ninja" were done. It got him close enough to Charlie Pickering to get the gig as his sidekick on The Weekly. It got him his own show in Hard Quiz. There's no limit to the heights he'll climb just so long as he's never asked to be funny; the Gleeson for PM campaign starts today!
Or, and this is where Gleeson's attempt to have it every way he can get away with gets really tangled, we can sit back and watch as he alternates between "this was all a joke because I'm a comedian" and "I don't deserve this, I'm grateful to the fans" in everything he does, from his acceptance speech to this TV Week interview on Instagram. Because even he realises that now that he's won a much-coveted award*, the comedy prick act is going to tire quite soon and maybe it would be better, strategically, if he was just humbly grateful for a bit. Enjoy Gleeson twisting himself in knots doing that over the next few weeks.
---
* No really, did you see Amanda Keller's stony face during Gleeson's speech?