Australian sitcoms are rarely story-driven. Sure, they have stories, but the laughs usually come from the characters and the dialogue. Kath & Kim was a classic, but what sticks in the mind: the plots, or Kel's butt-wiggling walk? Whether it's due to financial limitations or simply playing to their strengths, even the most ambitious Australian sitcoms rarely get much past a group of people in a handful of settings bantering with each other.
So it was something of a surprise to have two comedies based on telling funny stories airing at the same time: Street Smart and True Story with Hamish & Andy. Okay, True Story wasn't really a surprise – it had been on last year, after all, and this year was basically more of the same only with a slightly less star-studded cast. But whereas last year it seemed like a quirky one-off from the much-loved comedy duo (who'd probably been watching an episode or two of US series Drunk History), having it appear alongside (well, kind of) Street Smart put a new spin on things.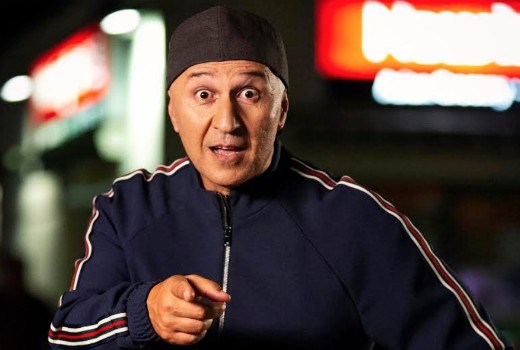 Not that much of anyone saw Street Smart, which was dumped from an early evening Sunday night slot after its first episode. But if you kept the television on after Have You Been Paying Attention? ended each week you would have seen it still plugging away well past its intended audiences of twelve year-olds' bedtimes doing what it did best… which wasn't really all that much, because it wasn't great.
At the other end of the scale, True Story with Hamish & Andy was a class act all the way, even when the episode was about guys dressed as jockeys making a dick of themselves at the Melbourne Cup. Thanks to the hosts skill and charm when it came to teasing the stories out of their civilian guests, plus a halfway decent budget for cast and filming (guess not having official writers pays off… for everyone but the writers), the end result was a comedy highlight.
What they both had in common was the idea of comedy as someone telling you a silly story where things keep on getting out of control. On Street Smart – oh yeah, it was a sitcom about a gang of suburban numbnuts who each week tried (and failed) at a pathetic get-rich-quick crime like stealing money out of shopping trolleys – the stories weren't "true" (and the characters were cliches, and the dialogue was childish, and you get the idea), but that didn't stop them being funny: that shopping trolley episode featured a sword fight (involving a toilet brush) between two guys atop a chain of trolleys rolling downhill, which is the kind of comedy visual "quality" most Australian comedy can only dream of.
This idea – that a funny sitcom might want to start with a funny story and go from there – seems obvious until you actually watch Australian comedy. We're definitely enjoying Back in Very Small Business but it's a show where the plot is largely there to give the characters a chance to be funny, not something that's funny in itself. And with most Australian comedy traditionally built around characters or situations, it's an approach that makes sense.
But occasionally it's nice to see a comedy that tries something a little different. After all, when someone tells you a funny story there's usually a decent chance it'll be funny: when someone is introduced to you as "a bit of a character", that's the internationally recognised signal to run.