Three episodes in and we're increasingly unsure about Back in Very Small Business, the reimagining of the brilliant 2008 sitcom Very Small Business.
The original, largely a two-hander between Don Angel (Wayne Hope) and Ray Leonard Leonard (Kim Gyngell), was an "odd couple" comedy, in which insensitive, boorish, "Howard battler" Angel owned and operated a number of dodgy small businesses from a suburban business park, with the assistance of Leonard.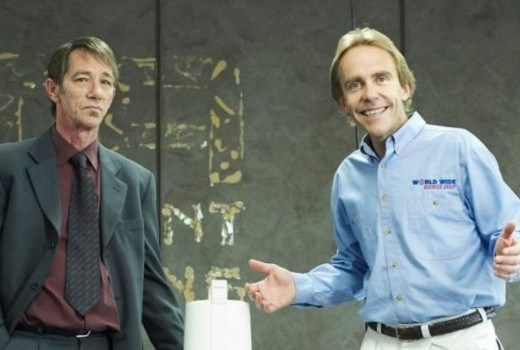 A former political journalist for The Australian, Leonard takes a job with Don because he needs the money after six years on sick leave following a breakdown. Within minutes, he finds himself writing advertorial copy for Don's stable of niche publications – Railway Union Monthly, Footy Inquest, Lower Croydon News, Feelin' Great and Music Music Music Music (it was supposed to be Music Music Music but the printer added one too many musics) – and despite being better than this as a writer, he throws himself into churning out 250-word "stories" about brass instruments, vanity units and adult products. Leonard reading out these flowery and often over-intellectual pieces, deadpan, was often the highlight of each episode.
If only there were scenes as funny as those in Back in Very Small Business because somehow it feels a less hilarious show. Partly it's the introduction of a large cast of regular characters, who haven't yet established their comic persona, and partly it's because Angel's World Wide Business Group seems reasonably successful in 2018, at least compared to 2008 when Angel personally worked the phones for all his magazines, as well as operating some vending machines and a chicken and chip shop.
In Very Small Business, the laughs often came from Don's desperation to make a sale by any means (often very bullshit means), whereas in Back in Very Small Business Don seems to have (mostly) worked it out. His copycat furniture and novelty products sell well, people are buying franchises of Don's Dirty Dog Wash (a business he was inspired to start in Very Small Business), his team have developed a hit new fashion belt and his daughter Sam (Molly Daniels) has just signed-up a high-profile Instagram celebrity to their online influencer company.
There have been some problems, children have been eating Don's novelty pineapple-scented rubbers (prompting an ACCC investigation and legal action from the parents) and a footballer pulled out of an Instagram deal, but mostly it's smooth sailing for the WWBG in 2018. Instead of the hatchback and rented flat of ten years ago, Don's got a McMansion, he's riding around in a top-of-the-range four-wheel drive, buying expensive (if awful) leather jackets and has a hot girlfriend. No wonder he's not so funny anymore. Successful people aren't funny…unless they stuff up in a funny way, which hopefully Don will do really soon.
At the risk of sounding dramatic, Back in Very Small Business is more a wacky dramedy than the laugh-packed sitcom it was a decade ago. And as an audience, we're being asked to root for the characters rather than laugh at their stupidity. It's perhaps more the kind of show that TV executives and mainstream audiences want, but it's not what lovers of comedy want. We want scenes like the one in Very Small Business were Don gets off the phone, having sold a small ad in Footy Inquest, and says to Ray "God, I love small business, that is better than a root, better than the last one I had, anyway" with a look on his face like he's achieved some kind of nirvana.
Sure, that sort of self-aggrandisement and business cliché-spouting is still a part of the show, but it seems to work less well, and be less the point of the show. Back in Very Small Business is more about plot than dialogue and character these days. So, if you're looking for laughs, go find a copy of Very Small Business on DVD or watch this playlist on YouTube for some highlights from the series.