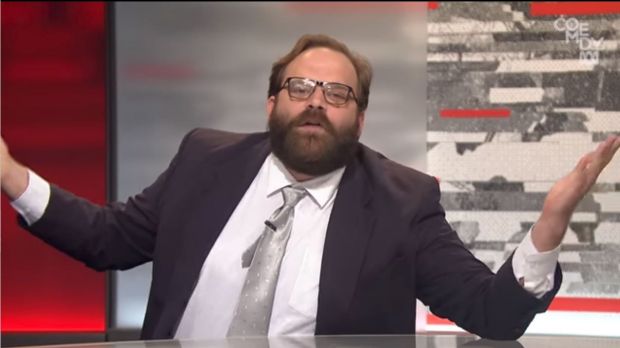 Remember that story six months ago about that Tonightly sketch that upset the Minister for Communications Mitch Fifield, Cory Bernardi and various others, and inspired several complaints to ACMA and the ABC? Well, late last week, ACMA cleared the show:
Today ACMA has found no breach by the ABC, noting the comedic context rather than being used for attack…

…Key to the ACMA's finding was the target audience's likely familiarity with the comedic style of the program, and its broadcast at 9pm with an MA15+ classification which allows for coarse language.
This was the sketch in question…
…or, if you can't be bothered to watch it, here's how TV Tonight summarised it…
The ABC is under fire from the Minister for Communications Mitch Fifield after Tonightly with Tom Ballard showed a poster of an Australian Conservatives candidate with the wording "is a c**t."

The joke from comedian Greg Larsen suggested the electorate of Batman be renamed "Batman is a c**t" due to founder John Batman's links to the murder of Aboriginal people.

"We cannot shy away from the terrible things he did," Larsen suggested.

Elaborating on his idea, to feigned objections from Ballard, Larsen showed mock posters of Greens candidate Alex Bhathal & Labor candidate Ged Kearney with the words "Batman is a c**t."

But for Australian Conservatives candidate Kevin Bailey he noted, "This was an issue because there is no Batman anywhere on that poster, so I've had to put 'Kevin Bailey was a c**t'," Larsen said.

"Greg that is unacceptable; regardless of what you think of his politics that is completely beyond the ball!" Ballard replied.

Mitch Fifield said in a statement, "Candidates for elected office expect to be criticised and parodied. But this ABC segment clearly crossed a line, particularly given that it was directed towards an individual who has served his nation in uniform.

"Vitriolic abuse of this kind has no place on the national broadcaster and I will be asking the ABC to investigate. The ABC should also immediately offer an unreserved apology to Mr Bailey."

Australian Conservatives leader Cory Bernardi has also reportedly written to ABC managing director Michelle Guthrie to complain.
…so, now that you've either watched the video or read the above summary, or both, do you think Tonightly crossed the line? Because we don't. In fact, it was obvious at the time that it hadn't, and that this was a beat-up by a bunch of right-wingers deliberately misunderstanding the sketch and piling-on it as a way to attack the ABC.
The joke wasn't calling Australian Conservatives candidate Kevin Bailey a cunt, it was about calling John Batman a cunt. Context in comedy is extremely important and its good to see ACMA make a context-based ruling in this instance, even if, as ACMA pointed out in their ruling "the limits [of the context] were certainly tested by the program".
Of course, whether the sketch was funny and a good piece of satire is another matter. Arguably, if you have to resort to calling someone a cunt – whether they're a historical figure or a current aspiring politician – you've lost the argument. In this podcast (which is well worth your time) Shaun Micallef argues that swearing is something you should minimise in comedy, for a few very good reasons:
I'm protective of the power of those particular words…you want to keep your powder dry with those ones because they're helpful words, beautiful words in the English language that still have enormous power, so you want to save them…my general rule is that if you can do without it then you do…if the end line of a joke is a swear word, and you take it out and there's nothing there, then it's probably not a very good joke.
Although it's probably also true to say that this particular Tonightly sketch would have been less hard-hitting had it gone with a softer take like "Batman was a bastard" or a slightly more accurate term like "Batman was a genocidaire".
… partly because almost no one's heard of the term "genocidaire".