Last week was a surprising but significant week in Australian politics and we now have our first female Prime Minister. There have been plenty of articles and stories in recent days telling us about everything from Gillard's early life as a Ten Pound Pom from Wales, to the background of her partner Tim Mathieson. Yet, on the subject of what tickles our new Prime Minister's funny bone, the media have been totally silent.
But, does it matter what makes Prime Minister Gillard laugh when she's got global warming and the GFC to fix? On the surface probably not a lot, but then again wouldn't you rather have someone who likes a laugh in the top job? If only because having a sense of humour makes them that bit more human than the average politician?
Take a look at the lady in the orange stripey top in this screen-grab. Doesn't she look kinda familiar?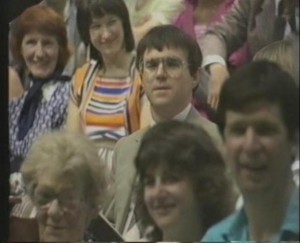 She's sitting in the audience of The Gillies Report (1984-1985), and seems to be enjoying herself. You can see her several times in the background of a sketch about then Australian Democrats Leader Don Chipp, and towards the end she joins the audience in shouting out a few things, in what seems to be a reasonably enthusiastic, if slightly embarrassed, manner.
As the sketch in question appears on The Gillies Report video compilation released in the 1980's, and it's a pretty hard tape to get hold of, we've put it on our YouTube channel. Why not watch it now.
Sure, this isn't the greatest piece of comedy ever – and the style's a little dated – but given the reaction of the audience it clearly had a fair bit of resonance at the time. It's also the kind of detailed satire we rarely see outside of Clarke & Dawe, and given the popularity of shows like The Daily Show, The Colbert Report, and (I suppose) The Chaser's War on Everything, it's one we clearly like.
We've argued before on this blog that The Gillies Report deserves a DVD release. It was enormously popular at the time, it won a Logie in 1986 for Best Light Entertainment Series, it's fondly remembered by those who saw it, many of the sketches still stand up (there are plenty on YouTube), it's a significant series in the history of Australian comedy, and now it seems a future Prime Minister once sat in its audience. What more could you want?