It's been well over a year since the incoming federal Labor government promised a new cashed up world for the ABC. Okay, so 2023 was always going to be business as usual. But surely 2024 was going to present us with the fruits of that momentous electoral decision? Mo' money, mo' programming and all that. Got your hopes up? Time to dive into the 2024 ABC upfronts!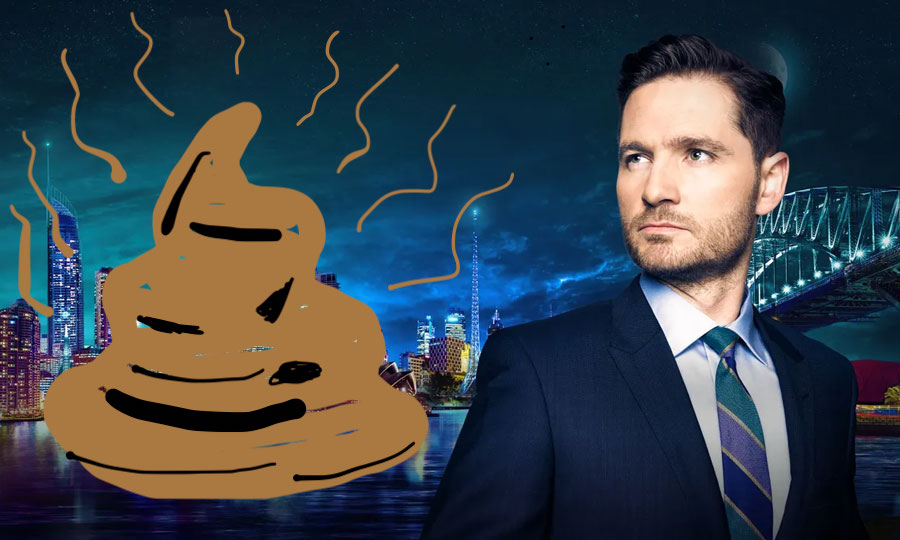 We're so used to getting less comedy out of the ABC each and every year that we're not entirely sure how to react to a future that is basically "more of the same". Remember when the ABC had two news satire shows a year, and then Shaun Micallef quit to open the door for new talent and the ABC replaced Mad as Hell with… nothing? Well now he's back!
Frankly, the news that Micallef is returning to the ABC in 2024 with Shaun Micallef's Unnamed Project could only be better if we knew what kind of show he'll be fronting. But here's an educated guess:
In the last decade, Shaun Micallef has only made three kinds of programs. There's serious documentaries on topics he's interested in. Oh look, he's also doing one of them for SBS next year in the form of Shaun Micallef's Origin Odyssey:
A reflective and joyful comedy travelogue where Shaun Micallef – one of Australia's favourite and most respected comedians – explores the cultural roots of his guests. Through the minutia of international travel, conversation, immersive experience and observational humour we will discover more than expected of our travellers. Developed and produced by Endemol Shine Australia (A Banijay Company) for SBS.
Then there's comedy shows that mix pre-recorded sketches with live material, which we all know and love and would really like to see more of but he did already make a shitload of episodes of Mad as Hell so who knows.
And then there's the game shows. Honestly, considering the ABC's firm editorial commitment to delivering the worst possible result for comedy fans, we'd have our buzzers ready.
Anyway, even we can't find a way to scowl at the news we're getting more Fisk. Fisk is great: good job ABC, presumably this has nothing to do with it being a hit on Netflix.
After that, we're back in the exciting yet extremely familiar world of hoping really hard the ABC has a few winners that they forgot to mention. Here's what else is coming back:
*Spicks and Specks
*Hard Quiz
*The Weekly with Charlie Pickering
*Gruen
And supposedly a second season of Mother and Son is "in development". Maybe they'll develop an angle that's actually funny this time? Even the ABC's Chief Content Officer seems to care about a second series for the show more out of duty than anything else:
The numbers were okay, I think we would have liked a bit more, but this is one of the most iconic ABC shows of all time. I want the show to have the respect it deserves and see if we can find an audience across two series. Now, whether it will finance or whether it will creatively develop, I don't know. But we want to at least give it the best shot, potentially for 2025, but not 2024.
There are also a couple of new comedies:
*White Fever
"Jane (Ra Chapman) is a cocky Korean-Australian adoptee with a love of hairy white guys – the hairier and whiter the better. When her friends call her out for having a white man fetish she sets out to try and reprogram her libido, reignites a connection with childhood friend, Yu Chang (Chris Pang) and stumbles into the process of finding out who she really is."
Has there ever been a sitcom based around a character's "quest to find themselves" that's been funny? Oh wait, My Name is Earl. Okay, we'll file this under "wait and see".
*Austin
"When much-loved children's author Julian Hartswood (Ben Miller, Bridgerton, Death in Paradise) inadvertently causes a social media storm, his career and that of his illustrator wife Ingrid (Sally Phillips, Veep, Bridget Jones's Diary) appears to be over. That is until Austin (Michael Theo, Love on the Spectrum), the neurodivergent son that Julian never knew existed, turns up out of the blue."
Time for some tough questions. Is this an Australian comedy? Or just another one of the kind of co-production where it's basically a UK show that happens to be set here (see Queen of Oz, chunks of Frayed, and most of Spreadsheet)? Two out of the three leads are from the UK, and they're the parents (well, step-parent in Ingrid's case) of the third. Is this even set in Australia? All we have to go on is the production information:
A Northern Pictures production for the Australian Broadcasting Corporation. Major production investment from the Australian Broadcasting Corporation in association with Screen Australia, Screen Canberra and ITV Studios which also handles international distribution
So plenty of local money at least. Hopefully they can greenscreen in a visit to Bondi beach at some point.