The launch last week of the new podcast From The Hideout was a nice surprise. Featuring Tony Martin (The Late Show, Get This, Sizzletown), legendary Channel 9 voiceover man Pete Smith, and Djovan Caro (Lessons with Luis, The Backside of Television), From The Hideout is a loose chat between three men who share a similar set of interests.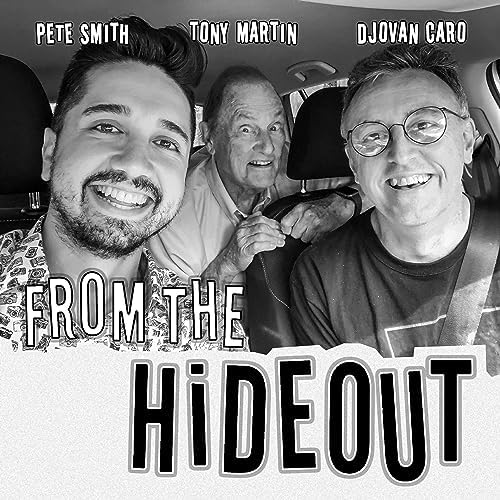 But clocking in it at just 37 minutes, this isn't one of those "three mates around a mic talking about their hobbies" podcasts, which rambles on and on. Smith, Martin, and Caro are experienced broadcasters and storytellers and know how to keep things interesting and succinct. And when they don't, the show's producers, Caro and Alex Amster employ a few judicious edits to break things up… Which allows you to enjoy a sting of the show's chilled-out, jazz club-esque theme music, written by Mitch McTaggart (The Backside of Television).
It's the kind of discipline and care and attention we wish more podcasters had. You don't need to keep everything you recorded in. You really don't. But if there are three people who know that very well, it's Smith, Martin, and Caro. They may be from completely different generations but they're all film and TV nerds, and they understand that editing is important.
All three also had boyhood ambitions to get into broadcasting, and in this first episode, they talk about how they each started out.
Back in the late 50s, Smith wanted to get into radio and television and shared this ambition with schoolfriend and fellow Channel 9 alumnus Philip Brady. This led to the pair kind of inventing the podcast as teenagers when they recorded themselves at home presenting a show called Brodie's Hideout. Their method of distributing the show, there being no Apple Podcasts or Spotify at the time, involved them posting each episode to friends and broadcasting live via doorbell wire to neighbours.
Other formative experiences the trio discuss include a radio play produced as a school project by Martin, and Caro's teenage attempts to remake the Matrix films using home video recording equipment.
If you're in any way a film or TV nerd, like messing around with recording equipment or just enjoy a real-life story well told by funny people, give From The Hideout a go.