If there's one thing that we all learnt from the pandemic, it's that the way we live sucks. Two new comedy-adjacent shows, Judith Lucy's podcast Overwhelmed & Living and the YouTube series Flats, explore modern living in two very different ways.
Overwhelmed & Living is the show of the pair that most directly considers what we've all been through since March 2020. It's the sequel to Lucy's previous podcast series Overwhelmed & Dying, which happened to be released just as the world went into lockdown, and explored themes such as being middle-aged and single, dealing with the death of close relatives, and feeling a general dissatisfaction with life. Now, almost three years on, Lucy has burst out of quarantine and is determined to make changes. And not just in her own life – Judith Lucy's going to save the planet!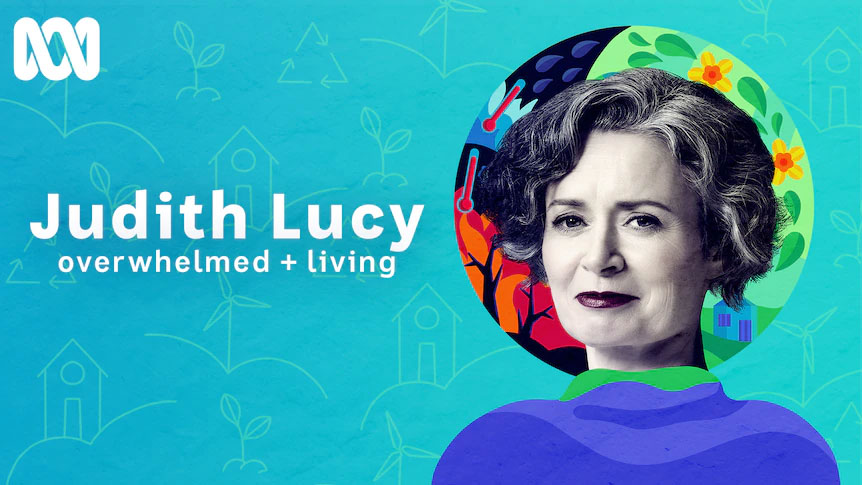 As with some of her previous series, this is Lucy taking a wry look at various self-help/self-improvement topics, except this time she's genuinely committed, whilst retaining a healthy scepticism. And if doing both seems like a tricky thing to pull off, then it kind of is. Lucy's trademark wry commentary fitted when she was talking about things which were a bit nuts, like in Judith Lucy is All Woman when she got botox injected into her G-spot. But it's a harder sell when she's talking with genuine enthusiasm about gardening, writing to her MP, or what she's learnt from an Indigenous elder.
Having said that, this is an entertaining and interesting series, which is funny when it intends to be and succeeds in finding relatively easy ways for anyone to take action on the environment. None of which require risking jail time by chucking soup at paintings or glueing yourself to roads.
Flats, sadly, is less successful at what it's trying to do. It was meant to be an "online comedy series" about people who live in inner-city Melbourne community housing, starring real people who live in inner-city Melbourne community housing. Sadly, the real people who live in inner-city Melbourne community housing can't act and the series isn't funny.
Princess Pictures, the makers of Flats, have some experience in making unfunny comedies with casts largely made up of non-actors, as they produced Chris Lilley's various series. And while they have learnt something from their experience of working with Lilley – visit the Productions page on their website to not see any of Lilley's series listed following his long-overdue cancellation – Princess Pictures still haven't learnt how to get comedy gold out performances by non-actors.
There are some positive things to say about Flats – Australia almost never makes sitcoms about people who aren't middle class, and the characters seem real even if the delivery of the dialogue is stilted – but the lack of laughs is a real problem. One issue is the plot. So far, the main character Joey (Will Weatheritt) has come out of jail, been rejected by his girlfriend, and wasted a bunch of money he doesn't have on drugs. None of which are obviously hilarious events.
If you want an audience to laugh, you have to give them a reason to do so. Chris Lilley's shows weren't funny because the laughs mostly came from punching down. In Flats, it's more punching across – desperate people hurting other desperate people – Joey stealing money from his ex-girlfriend to pay his drug debt, for example.
To get laughs in this sitcom, Joey needs a pompous authority figure to fight, or to get himself into avoidable scrapes which aren't tragic. Instead, Joey is a guy who's in a fight for survival against structural inequity. If Flats had been branded as a gritty drama about life in inner Melbourne, it might get away with it, but branding it as a sitcom, when there are no laughs in sight, is just plain weird.