Yesterday we lost the greatest Australian comedian of the 20th Century and a pioneer of comedy on Australian television. Some argue that Barry Humphries invented Australian comedy. It's not true – there's been comedy in Australia for as long as there have been Australians – but it's true enough.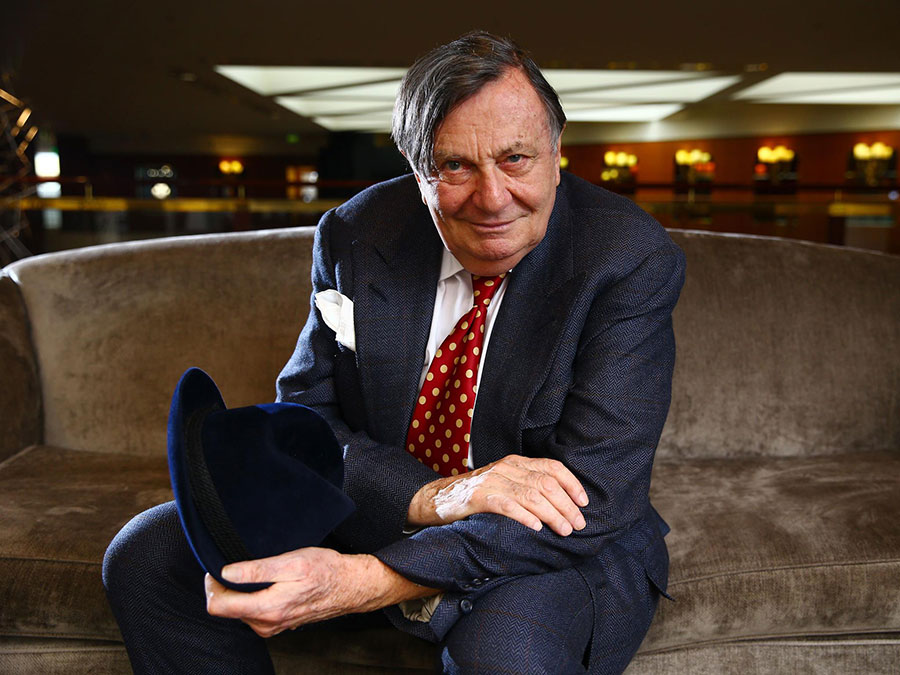 When Humphries was starting out in the 1950s, urban-dwelling Australians didn't have much to laugh about that they could really relate to. Comedy in Australia until this point often focused on rural Australia or was imported from the UK or the USA. Then along came Humphries' character Edna Everage, who turned her nose up at the neighbours' burgundy Axminster carpets, and, suddenly, modern Australian comedy was born.
Humphries both revealed and revelled in the dullness, the materialism, and the small-mindedness of the Australian suburbs. Edna was a housewife who thought she was better than others, while another Humphries character, First World War veteran Sandy Stone was a bore and a bigot, forever doomed to haunt his former home. Many comedians who came along later, from the Australia You're Standing In It team to The D-Generation to Gina Riley and Jane Turner, covered similar ground, but it was Barry Humphries who did it first. Literally. He appeared as Edna on Channel Seven Melbourne's opening night show in 1957!
But Melbourne wasn't big enough for Barry Humphries and in the late 1950s he moved to London, gradually building a reputation as an actor, and for his comedy characters. Initially, the British didn't understand Edna, but several decades later, her live shows were hot tickets on the West End and she redefined the celebrity chat show with The Dame Edna Experience.
In this top-rating show made for London Weekend Television, celebrity guests deemed too pretentious or dull found themselves flung down a staircase, or removed from the show via other, comically violent, means. It was a gimmick later copied in Graham Norton's chat show, but it was Barry Humphries who did it first.
Barry Humphries was also a pioneer of what was later called "gross-out comedy", with his characters Barry McKenzie, an Australian in London who spent his time drinking, chasing women and sticking it up the Poms, and Sir Les Patterson, an older type of lecherous boozer who, slightly unbelievably, held the position of Cultural Attaché to the Court of St James.
Both characters enabled Humphries to critique sexist, loutish behaviour and to push the audience's tolerance by engaging in it. At the end of The Adventures of Barry McKenzie, Bazza and his mates (one of whom was played by the late John Clarke) put out a fire with cans of Fosters and their own urine. While at Humphries' live shows, Sir Les spat on the audience and revealed his "trouser snake," a plastic phallus which emitted white liquid, to gales of laughter.
In 2023, this isn't the kind of comedy that many younger comedians are doing, and Humphries has been criticised in recent years for it. Comedians now don't do ambiguity, where sexism (or racism, or homophobia) is both satirised and indulged in. This is the right thing to do, of course, but it's worth remembering that Barry McKenzie and Sir Les were controversial back in their day too. Controversial with the sort of bigots and prudes who would be just as horrified by today's comedians with their ethos of equality and justice for all.
Humphries, who was both a ground-breaking pioneer in an often left-leaning profession, and a conservative (he was on the board of Quadrant and wrote for The Spectator), was ultimately a contrarian, who, as cultural history Tony Moore put it "retained a bohemian delight in transgression that makes him a radical".
It was this spirit of radicalism, perhaps, which has attracted such a wide and diverse audience to Humphries' shows over the last 65+ years. He had the ability to make everyone laugh, whether they were young or old, a conservative or a die-hard leftist.
Barry Humphries was a pioneer, an original and endlessly inventive. Australian comedy would be nothing without him.