By pure coincidence, SBS's new dramedy A Beginner's Guide to Grief dropped just days before many parts of the world found themselves plunged into periods of mourning. So, is this bereavement-themed comedy a good distraction from the endless royal death content which is now dominating the broadcast media? Well, it's funnier and way less boring than Summer Love, that's for sure.
A Beginner's Guide to Grief follows Harriet (Anna Lindner) as she tries to cope with the deaths of her parents, Reggie (Glynn Nicholas) and Diane (Caitlin McDougall). Helpfully, or perhaps not, Diane has left Harriet a self-help guide on cassette (voiced by Ted Lasso's Brett Goldstein) which offers off-beat advice for the bereaved.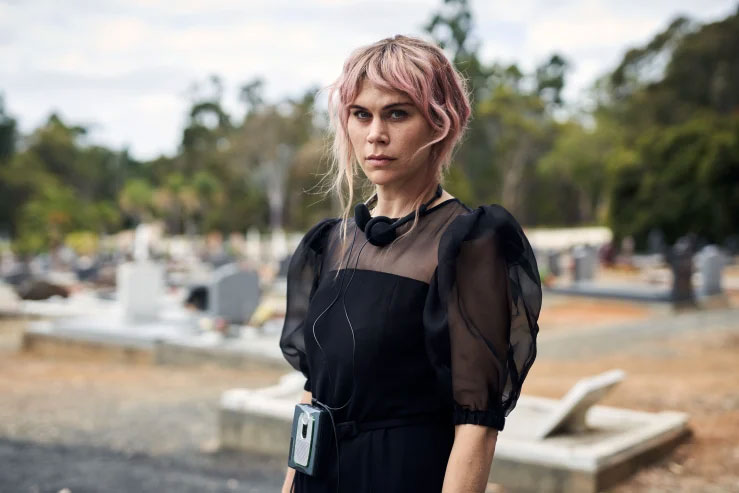 Of less help are the residents of Harriet's hometown, Schutzenfuchs, a fictional village inspired by German-settled parts of South Australia such as Hahndorf and the Barossa Valley. The townsfolk include Harriet's Uncle Trevor, a Lutheran Revivalist minister whose faith will not allow him to respect Reggie and Diane's deathbed wish to be cremated, her cousin Isaiah (Carlo Ritchie), a possible sex pest and the local undertaker, and her sanctimonious aunt Barb (Georgina Naidu), who apologises to god if anyone swears.
The real star of the show, and Harriet's lifeline, is Daisy (Cassandra Sorrell), her pyromaniac foster sister, who has recently been released from prison. Daisy helps Harriet to give Reggie and Diane an appropriate send-off and to get her life back on track.
Based on Lindner's real-life experience, this is not a sentimental or sanitised depiction of grief. We see a realistic portrayal of mourning, including moments which are funny, joyous, bizarre, and ridiculous. These moments in A Beginner's Guide to Grief are every bit as well done as the dramatic scenes, a rarity in Australian dramedy, where many shows have the feel of soap operas where some gags have been shoe horned in.
In a lesser dramedy, the self-help cassette, with its strange and unhinged advice, and the pisstakes of the rural townsfolk and the Australian-German community would be more prominent – and more grating. Here, they're used sparingly and at the right moments.
The real focus of this show is Harriet's relationships with her family and friends, and, yes, A Beginner's Guide to Grief is mostly a drama, but it's compelling to watch, funny when it needs to be and feels cohesive overall.