You could be forgiven for thinking that Australia's Sexiest Tradie (which airs on 7Mate after Fat Pizza: Back In Business) is the real deal: an actual tradie being followed by an actual documentary crew. But in fact, the show is the creation of actor Rick Donald (Home & Away, Wentworth), who also plays the lead character Frankie Wood.
Frankie is a plumber who lives with his parents and girlfriend but wants to become an actor. The best route to fame, he thinks, is entering a local radio competition to find Australia's Sexist Tradie. Somewhere along the way, a documentary crew start to follow him and voila, he's on his way to superstardom.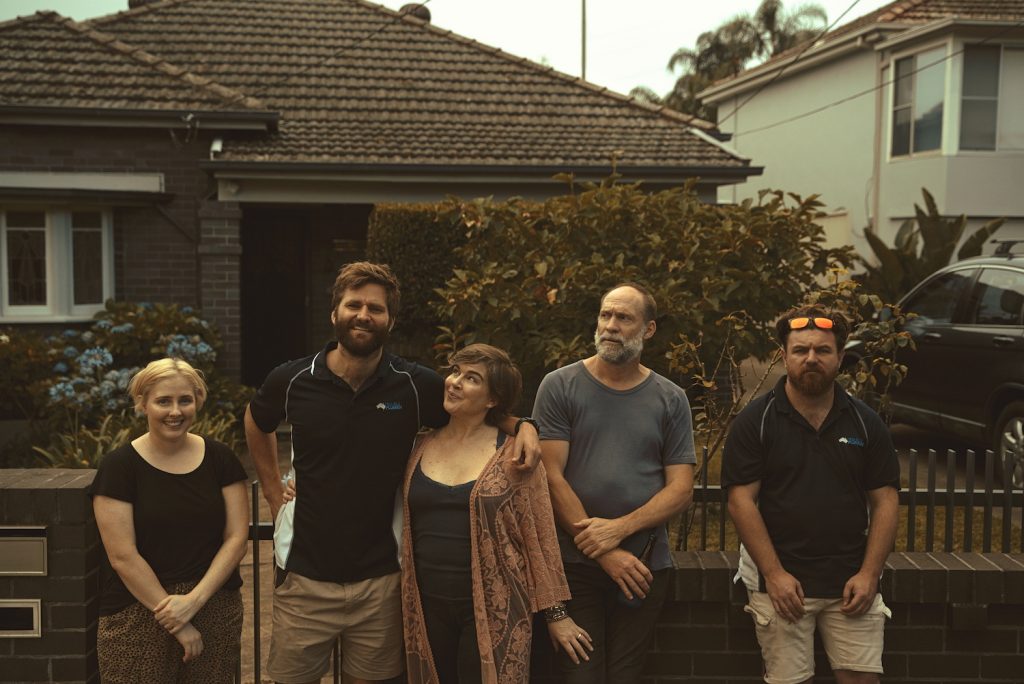 Or is he? Because he's clearly a misogynist, homophobic tool with no discernible talent other than stupidity and insensitiveness and that doesn't play so well in 2021. Out on a job at the house of a pregnant woman with a sleeping baby, he refuses to turn down his radio so as not to wake up her child and makes insensitive, sexist comments about her breasts. Later, when forced to apologise to her by his boss (Peter Phelps), he finds it almost impossible.
At the radio station, when he meets the other contestants, he finds himself torn between a desperation to win and a strong desire for hot female contestant Summer (Annabelle Stephenson), who gives him an erection every time he sees her. This leads to some painful manscaping and his attention-seeking appearance at a competition photo shoot wearing only Speedos…quickly followed by the inevitable erection when he watches Summer's sexy photo session.
Frankie, you might say, isn't the type of man capable of forming a mature relationship or behaving in any way like an adult. Within hours of setting eyes on Summer, he's dumped long-time girlfriend Leanne (Briallen Clarke), a sweet-natured doormat who's endured his idiocy and his sexist nickname for her, Hammer, for years. Meanwhile, Frankie starts ordering about his best mate Grub (Jason Perini) and making him film his social media videos. One such video, in which Frankie adds about half a jar of Nescafe to a bottle of iced coffee, then skulls the lot, leads to a funny, albeit pretty gross, sequence at a customer's house.
Generally speaking, the gross-out comedy is the funniest stuff in Australia's Sexiest Tradie. Most of the other laughs come from scenes in which Frankie says something idiotic and everyone around him pauses and looks shocked and uncomfortable. And while this can be funny, after 20 years of mockumentaries and sitcoms chock-full of roughly these kinds of jokes and situations, the fart gags and gross-out material are welcome.
One way in which Australia's Sexiest Tradie is a bit different to the likes of The Office and the work of Chris Lilley though, is that it digs deeper into why the main character is like he is. Frankie's Dad Terry (Steve Le Marquand) is equally insensitive, sexist and incapable of basic decency to others. This gives us both an insight into the line of toxic males that gave us Frankie Wood but also gives the makers of this show a slightly different way of taking the piss out of this type of bloke. Although, this also means that Terry's treatment of wife Barbara (Pippa Grandison) is every bit as upsetting as Frankie's treatment of Leanne.
The female characters, we hope, will leave these idiots, and go off to lead independent, more fulfilling lives (although for the comedy to work they'll have to stay put). Meanwhile, there are three more episodes to go before we see whether Frankie will become Australia's Sexiest Tradie or remain just another tool in the toolbox.