We're only two weeks in and it's rapidly becoming clear that despite being titled Question Everything, nobody at the ABC got around to questioning why this show needed to be made. Hands up who thought the comedy panel show format needs explainers about Taliban social media propaganda? It's that kind of thinking that makes all those jokes about the ABC having no viewers under 60 so timeless.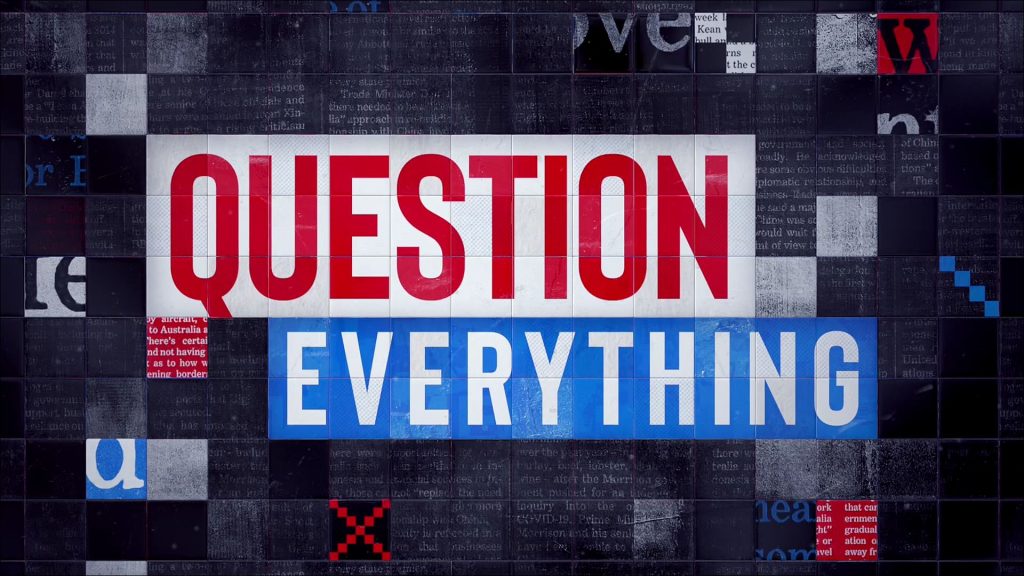 This week it somehow became even more obvious that this was intended to be Gruen News, only instead of getting in a panel of "news experts" – presumably the kind of humourless fucks who populate Insiders – they'd get in a bunch of up and coming comics. Because if there's anyone who not only watches a lot of news but thinks seriously about the ramifications of what they're seeing, it's stand up comedians.
And the whiplash intensified across the episode. We went from boring news explainers to random semi-related gags to Wil Anderson dropping some more dad joke gear and then looking pissed off when comedian Fady Kassab did one better with his "those guys who threw ink on that cop should go in the pen" gag. It wasn't a good joke, but it was a good Wil Anderson joke.
(especially as it made the next few minutes some of the most painfully awkward viewing the ABC's served up since those ads promoting Everything's Gonna Be Okay a week before it was axed in the US. Don't step on Anderson's turf!)
The panelists doing better at the host's job than the host pretty much sums up this show as a whole… or it would if this show had a whole to sum up because it is a mess. The Gruen News / Insiders / The Drum / 40% of all ABC product format is rigid – here's an issue, now comment on it – and the comedians they're getting in are too inexperienced or disinterested or focused on being funny to provide any added value to the issues being discussed. Oh no, this panel show is no longer my best source of news on anti-lockdown protesters!
Meanwhile, the comedians are easily the best part of the show and the only thing making it remotely worth watching because both Anderson and pointless co-host Jan Fran are just doing the same old same old. Having Fran suddenly hosting a segment that made us think we'd tuned into The Feed that ended with "Afghans are risking life and limb to escape this regime – do you really want to be complicit with their Talabranding?" was a stark reminder that Hungry Beast wasn't really very good and it finished a decade ago.
As for the best example of just how misguided the whole thing is, that was – no, not the part where someone said "you're playing a game of race card snap", because that came uncomfortably close (for ABC management) to saying the quiet part out loud – the segment where the panel briefly became Woman's Day editors, coming up with funny captions for celebrity photos… followed by a serious explanation of how libel law works.
And we haven't even got to the part where it was suddenly revealed that we were watching a game show. "Final round"? There were rounds? Is this show secretly a drinking game? Because if so maybe the people who put it together should lay off the sauce for a while.