The great myth put about by those in power is that they know what they're doing and that we should trust them (maybe you can think of a recent example of that). So, ultimately, perhaps, we're all better off putting ourselves in the hands of people who don't know what they're doing? Could we really be worse off if we did?
That's the theory behind Kate McLennan and Kate McCartney's sporadically-released podcast Only Wrong Answers, in which people with a problem email the Kates to ask for help. Relationships, kids, careers, this pandemic thing that's happening…the Kates'll have a go at finding a solution to anything. Or not, most of the time.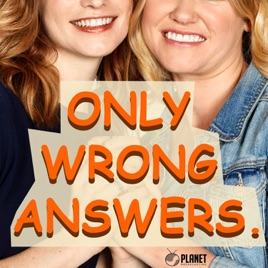 A lot of the laughs in Only Wrong Answers come from Kate and Kate not actually helping anyone, more beating themselves up, or having a go at the person who had the temerity to ask them a question. They're the real problem, after all.
Everyone will have their favourite moment in Only Wrong Answers, but we particularly enjoyed the rant about Gen X music lovers hating on the music their kids listen to. Because men of a certain (highly opinionated) type are always worth kicking.
So – and we're talking mainly to that certain type of man, here – if you didn't enjoy the tone of Get Krack!n, you will also dislike this. It's just not for you. Move on with your lives.
But if you did like Get Krack!n, then this is more comedy in that same vein. Except it's looser, like you're in an ideas session for Get Krack!n and someone's edited-together the highlights.
That someone, by the way, is Greg Larsen (Tonightly, At Home Alone Together), who has very skilfully selected the best bits of Kate and Kate's rambling and cobbled them together with some well-timed musical stings. Who knew editing could give a podcast the edge? Not many podcasters, that's for sure.
Also worth noting is that this won't be the last audio project from the Kates:
The duo are writing a new fiction podcast for Amazon's Audible, eyeing a launch next year, titled Slushy – "a traditional sitcom, but for your ears," says McLennan – set on an Australian research base in Antarctica.
So, listen out for that.