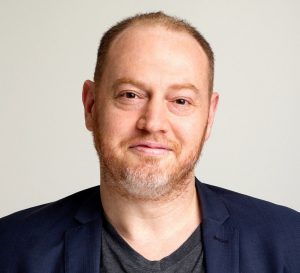 Rick Kalowski, the recently-departed Head of Comedy at the ABC, gave an interesting vale interview to if.com.au recently.
"The ABC does an incredible job as the driver of Australian scripted comedy but I truly see no reason why, with the right projects, the love can't be spread," he tells IF.

Rosehaven would have been a comfortable fit for the Nine or Ten Networks, he thinks, while Frayed would have suited Nine, albeit, he notes, perhaps with some of the fruitier bad language toned down.

The Letdown might have been a good match for Ten's demographic while Ronny Chieng: International Student could have fulfilled SBS's remit.

Given the ratings success of several ABC comedies, Kalowski, who steps down this Friday, hopes the commercial broadcasters will increasingly see the value of scripted comedy after CJZ produced Mr Black for Ten and the Seven Network has the upcoming Fam Time from Seven Studios.

While he is yet to figure out his career path, wherever he lands he looks forward to discussing shows with the networks as well as the ABC.

…

When he announced his departure after commissioning and overseeing the production of some 80 titles, spanning pilots, series, digital content and podcasts, the executive told IF he was exhausted and needed a break.

So while he is in no rush to settle on his next gig, he will be continuing conversations here as well as initiating new ones when he goes to the UK next week. He envisions getting involved both in Australian-based projects with international partners, and international ones outside Australia.

"It has been an absolute privilege to work at the ABC," he says. "It has been a great opportunity to develop and commission shows and to nurture new talent. I have had more freedom than I'd ever had and I learned a huge amount. While being really excited about the challenge of the new, I'll miss the place and the people very much."
What an odd interview this is. On the one hand, Kalowski appears to be using it as an opportunity to big himself up as he's trying to find a new role – i.e. by making it clear that he can commission popular comedy shows which can appeal to a range of broadcasters and audiences – and on the other hand, he's saying he quit his gig at the ABC because he was "exhausted and needed a break".
Jesus, Rick, if you're so exhausted, why fly to grey, wintery, overcrowded, stressful London to have "conversations"? Wouldn't you better off slinging a few things in the back of your car and heading up the coast to somewhere with a nice beach you can lie on for the next month?
And why did if.com.au give him this platform to spruik his wares, anyway? Is there even a story here?
Oh wait, yes there is…
Among his last ABC commissions is Yes, Chef!, a six-part comedy/drama from Closer Productions and Erik Thomson's Wozzledot Pictures, co-funded by Screen Australia.

At first glance, the premise – a notorious celebrity chef is forced to flee to his hometown in the Adelaide Hills after his latest outburst goes viral and forms an unlikely business partnership with his 18-year-old pastry prodigy niece – may seem to be the kind of show that could play on the commercial broadcasters.

But as Kalowski explains, the niece is non-Anglo, as are about half the other lead characters, and the narrative deals with the clash between the old guard represented by the chef and the new typified by his niece. He likens the set-up to a comedic version of Netflix's The Chef's Table, with a touch of All About Eve into the mix. Casting is due to be announced in April.
And here's Screen Australia confirming their funding of Yes, Chef!:
YES, CHEF!
6 x 30 mins
Closer Productions Pty Ltd
Genre Drama, Comedy
Writers Julie De Fina, Matthew Bate, Matthew Vesely, Jodie Molloy
Producers Rebecca Summerton, Matthew Bate, Erik Thomson
Executive Producer Julie De Fina
Broadcaster ABC
International Sales ABC Commercial
Synopsis When his latest outburst goes viral, volatile celebrity chef Easton West flees back to his hometown in the Adelaide Hills and tries to reinvent himself through an unlikely partnership with his 18 year-old pastry wunderkind niece.
We're expecting Gordon Ramsay-style aggression intercut with scenes of the South Australian countryside looking gorgeous. And maybe some of that awkward dialogue like in The Letdown, about how great Adelaide food and wine is, which was presumably shoehorned into the script because they got a bunch of funding from the South Australian Film Corporation.
Thanks a lot for this, Rick Kalowski, your legacy of comedy commissions at the ABC is assured!