Aunty Donna's new YouTube series Glennridge Secondary College is exactly what we've come to expect from Aunty Donna: a series of high-energy sketches riffing on a theme, in this case, life at a typical suburban secondary school.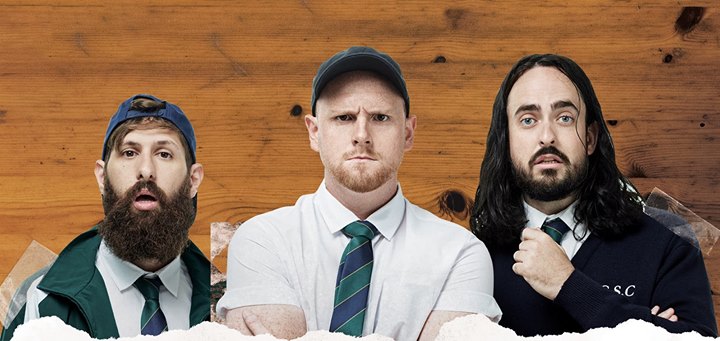 If the sketches look highly polished, that's because many of them come from the trio's live tour from last year, also called Glenridge Secondary College, which we haven't seen. Another thing that's notable about this series of sketches is that there's no narrative or consistent characters across them, which led us to wonder whether that was also the case in the live show.
A quick Google later, and we came across this review of the live show:
Glennridge Secondary College sees the Aunty Donna boys take on a more structured approach than ever before. Instead of their usual brand of nonsensical and disconnected sketches, they've reinvented themselves with some nonsensical, connected sketches.
So, there was some sort of storyline or narrative arc in the live show. Perhaps that will become clearer as more sketches are released online (or not).
What's not in doubt, though, is that this is another good series of sketches from Aunty Donna. Some, like Roll Call, are brilliantly done. School roll calls have been the inspiration for many great sketches over the years (Rowan Atkinson did several hilarious versions of a roll call sketch) but this one is classic Aunty Donna – relentless repetition of a comic idea until it becomes even funnier, plus a hefty dose of comic violence.
Don't Get In The Kiln, which is equally relentless and violent, works along similar lines, while How To Be Cool takes the relentless repetition and comic violence and throws in a bit of surrealism – oh, and it's a song.
Speaking of songs, Glennridge Secondary College gets its own school song, which is worth a look, and there's Best Days of My Life, another riff on school life, which is on the Aunty Donna album.
Less successful, because the three Donnas take the idea of relentless repetition a bit too far, is Ball Games At Lunch, which at more than six minutes outstayed its welcome. Although we enjoyed the teenage extras in the background trying desperately not to laugh as various members of the trio screamed in each other's faces.
Overall, Glennridge Secondary College is worth seeking out on YouTube. Sure, there's no story, but that's not really the point. Aunty Donna are at their best when they're just focused on making us laugh. And there are far worse comic approaches out there than going for laughs – see the rest of this blog for details.