Remember how Pilot Week was going to bring us Ten's next hit comedy? How it was kind of exciting to work out which of the pilots would get a series? How we've been waiting for ages to hear which shows are going to series, and have heard nothing?
Well, it turns out, that Ten's next new comedy isn't one of the Pilot Week shows, but one they announced last November, and which is based on the first episode of the ABC's 2013 show It's a Date.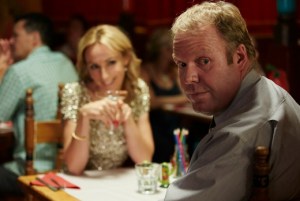 Cue the media release…
A First Look At How To Stay Married.
Starring Peter Helliar And Lisa McCune.
Coming Soon To The WIN Network.

Harry and Meghan. Tim and Anna. Biebs and Baldwin. It's all champagne and roses in the beginning. But how do you keep the home fires burning 14 years down the track, when bikinis have made way for a one-piece and there's a small child sleeping in your bed every night?

Starring Pete Helliar and Lisa McCune, How To Stay Married goes behind the closed doors of a two-point four family who are stuck in a rut. Greg (Helliar) and Em (McCune) have been married for 14 years, but their relationship is lacking any spark. Life gets complicated when Em goes back to work for the first time since the kids were born, just as Greg is made redundant.

A funny, honest, warts-and-all take on parenting, careers and partnerships in 2018, How To Stay Married tackles the big issues modern day marriages face, from managing screentime, to date night expectations and what actually constitutes hard-rubbish. The series also stars Phil Lloyd playing Greg's man-child brother Brad, and unconventional neighbours Terry (Darren Gilshenan) and Marlo (Nikki Britton).
There's also this preview video:
It looks…OK? The episode of It's a Date that it's based on had a decent premise (a couple with young kids are using date night and role play to keep their waning marriage interesting). And, to be fair, there is currently a hole in the Australian comedy market for a mass-appeal sitcom where mildly wacky things happen to relatable people. We haven't had a show like that since Squinters, as this year's other sitcoms have tended to focus on outlier characters and situations (Street Smart, Back in Very Small Business, Sando). And even though Squinters wasn't particularly funny, in theory, a show in that style could work on a commercial network. We shall see.
And in the meantime, we won't be holding our breath that any of the Pilot Week shows are getting the green light. Especially the Dave O'Neil-penned sitcom Dave, which while one of the more promising Pilot Week efforts, is somewhat similar to How To Stay Married (in that it's also about a middle-aged couple with kids who live in the suburbs and get into mildly wacky scrapes). Ah well.