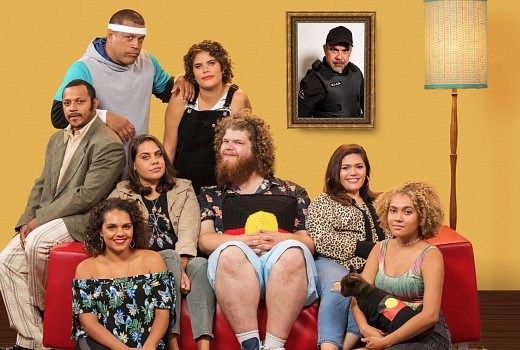 The third series of Black Comedy feels different to previous series. Gone is the popular recurring sketch Tiddas and its catchphrase "What's this then, slut?", along with writer/performer Steven Oliver, and filling the gap are some new cast members, a bunch of new recurring sketches and a slightly different feel to the show.
Basically, Black Comedy feels like less of a traditional, big and bold sketch show, with over-the-top characters and stereotypes – although there are still some of those – and more of a serious, politically-minded show with an emphasis on realism. So, while an episode still might open with a boom-tish gag like… "I said a car robbery, not a corroboree!" …later in the show, there'll be a sketch with rather more bite.
When an indigenous girl brings her white boyfriend home for dinner to meet her parents, he, seemingly, does the right thing by bringing them a gift. "I hope it's not smallpox" quips the Dad. Actually, it's worse than that, it's a Monopoly set. And as the evening progresses, whitey manages to bleed the family dry of all their assets, citing laws of ownership they're unfamiliar with, and plunging them into debt and poverty. In another similar sketch, a white couple plays Scrabble with an indigenous man, and refuse to accept his indigenous words as he "can't prove they're real". These aren't exactly hilarious sketches – more horrifying and tragic – but the message is clear.
On a lighter note, there's this parody of a TV morning show called "Wake Up To Yourself" (the sort of parody TV show title you'd expect of Get Krack!n), where a panel earnestly discuss whether white people are cunts or not. Conclusion: they are.
And fair enough, too.*
Then there's the more standard sketch show fare, like a parody of The Exorcist with the big reveal that it's not a possession, just a slovenly cousin who won't piss off. Or the traditional dance troupe performing for tourists who perform dances about such contemporary rituals as waiting for the dole cheque. Or the uber-PC gay, indigenous housemates, stressing about their cleaner.
There's some good stuff in this show, from a mix of established and up-and-coming writer/performers. The only problem and we say this about a lot of sketch shows (because it's true), is that it feels like there's no shared vision for this show beyond "it's an all-indigenous cast". We get that the very fact of an all-indigenous sketch show is pretty visionary (not to mention long overdue), but for this to be a really great show it's got to be more than that.
* Would it be cunty to point out that this is quite similar to Not The Nine O'Clock News' Soccer Hooligan sketch, i.e. "Cut off their goolies", where the basic gag is that the solution to a complex problem is a reductionist, sweary generalisation? Probably.