Production will soon commence in Melbourne on an exciting new weekly panel show,Tomorrow Tonight, to be hosted by ABC favourites Charlie Pickering and Annabel Crabb, and produced by the team behind The Weekly with Charlie Pickering and Hard Quiz.

Each episode Charlie will introduce Annabel and a panel of experts and comedians to a story that would have us all glued to the news – an event that hasn't happened yet, but could.  Funny, illuminating and occasionally terrifying, Tomorrow Tonight will bring you tomorrow's news today and show us that the future is predictably unpredictable.

Tomorrow Tonight is the comedy panel show that gets ahead of itself by running out in front of the news cycle.  As the world goes off script it is time for a show that takes a long, hard and hilarious look at "what happens next".

"I'm excited to take a break from making fun of the news to have a go at making up some news of our own, which could all turn out to be true any day now."
– Charlie Pickering

"The escalating lunacy of domestic and global events in recent years is a sombre reminder to us all that we should be prepared for things to get even weirder. Tomorrow Tonight is – under these circumstances – a cornerstone obligation of the ABC Charter. Jokes included at no additional public expense."
– Annabel Crabb

"We are thrilled to work with Charlie Pickering and Annabel Crabb and the team at Thinkative Television on this original production. Tomorrow Tonight will unpack some of the most burning issues of our time and ask: 'What if?' Tomorrow Tonight joins ABC shows such as Gruen, Shaun Micallef's Mad As Hell, The Weekly with Charlie Pickering and Hard Quiz in informing and entertaining viewers about the world around them and the world to come."
– Josie Mason-Campbell, ABC Head Factual & Entertainment

Tomorrow Tonight will air later this year on the ABC.
Where to begin with this turd exciting new development? This is a press release that starts out describing Charlie Pickering as an "ABC favourite" and ends with claiming that Hard Quiz is "informing and entertaining viewers"; if we weren't feeling queasy about this Hypotheticals reboot before today we're actively vomiting at the thought now.
Hey, see that list of "informing and entertaining" shows at the end of the press release? Here's two shows that aren't there: The Checkout and Tonightly. Because despite actually being both informative and entertaining, they were both axed this year. But don't worry – the money the ABC saved by not renewing those shows is being spent on this instead. This is how the ABC wants to spend their diminishing funds; on giving you, the audience, more time to hang out with your "ABC favourites". Jesus wept.
Also confusing: why two hosts? Charlie Pickering walks out, introduces Annabel Crabb and then… what? This might possibly make sense if Crabb was replaced by anyone else a regular panelist with relevant skills, but whatever you might think of Crabb – and more on that in a minute – she's not really great when it comes to speculating on future events. Or interpreting current events when a fellow journalist stuffs it up: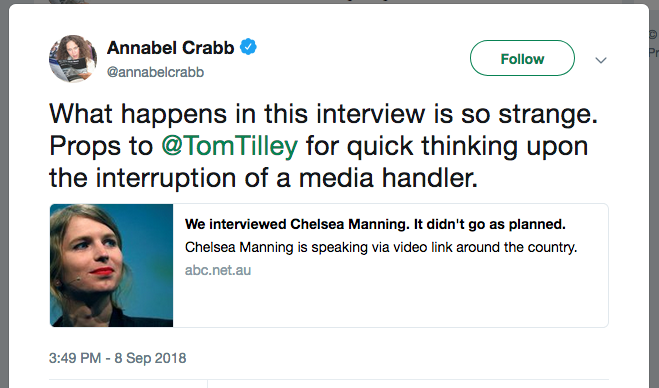 Look, we get it. The ABC needs some in-house talent to host the shows that upper management wants to make. But eventually someone at the ABC is going to realise that by getting their "talent" to host stuff like this they're actively devaluing the "talent" they've invested so much money on.
It's one thing to get Tom Gleeson to host Australia's most forgettable quiz show; it's another to turn Annabel Crabb from a mildly respected political journalist wearing Marieke Hardy's cast-offs into an apologist for death camp commandants. Oh wait, that already happened with Kitchen Cabinet. Let's rewatch that episode where fucking "ScoMo" made lunch while refugees killed themselves in his offshore detention camps, shall we?
Obviously the ABC can redistribute their budget how they see fit. And if they want to give more work to a host who's failed to ignite any real excitement or interest after the ABC paid a fortune to give him (and then renew, and renew) his own largely ignored and often reviled show, that's their business. But this is still a bad idea on a basic programming level.
Geoffery Robinson's Hypotheticals featured an authentically intelligent host who could believably create a scenario then throw in developments based on real-world situations which his panel – mostly made up of at least slightly serious people whose answers reflected what they (or people like themselves) would do for real in these situations – would then answer seriously. In contrast, this is shit.
Hypotheticals worked because it took its crazy scenarios seriously. This is hosted by Charlie Pickering, who clearly takes himself seriously but treats everything else around him with thinly veiled contempt, and Annabel Crabb, who is a "fun" political reporter best known for telling the general public that politicians running detention camps are really top blokes when you get to know them. It's going to be an episode of Theatre Sports where the improv teams are made up of politicians, columnists for The Australian and Matt Okine. The only thing anyone is going to learn when this goes to air is how fast they can change the channel.
Here's a hypothetical for you: would we be getting this show if The Chaser were still making television at the ABC?