You know what, we're getting a bit sick of watching the first episode of a new sitcom and just sighing. First Squinters, now Sando, a show with so many obvious problems in episode 1 that we're wondering whether it will even be a television program by episode 6.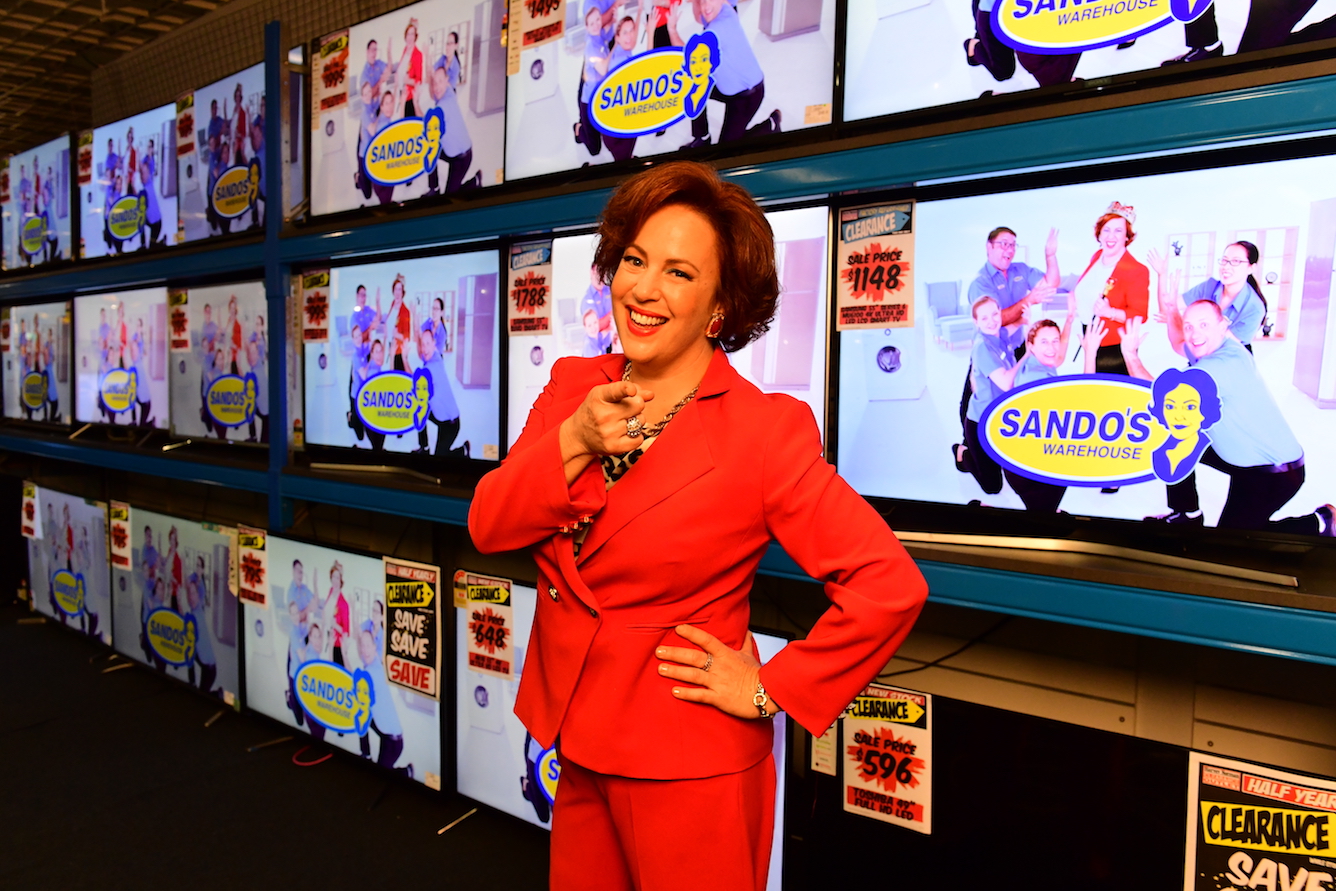 Where shall we begin…?
How about the fact that episode 1 contained just two actual gags? Which, for the record, were:
The list of they-could-almost-be-real suburbs at the end of the Sando's Warehouse ad (Boggabilla, Shuntsville, Mangwart and Fadgetown).
That bit where Sando's daughter welcomes everyone to her daughter's birthday party and asks that the unvaccinated kids stay in the pen (which is an actual pen).
That's two gags in a show that ran approximately 26 minutes.
But hey, who needs gags in a sitcom when there are great characters that you can fall in love with, like this is a dramedy. Oh wait, Sando had none of them either…
There's the title character, Sando, a fun-seeming discount retailer who appears in her own cheap-and-cheerful television ads, except she turns out to be a lying cheat who habitually puts business above family, apart from when she's sleeping with younger men. But hey, she'll be heaps more endearing when she loses her business and has to patch things up with her family, right?
And the family, they'll be hilarious, fully-rounded, laugh-generating characters, right? Well, there's an idiot son, so maybe. But mainly, no. And apart from that, there's Sando's ex-husband, who just seems to be a guy in his 50's who doesn't have to work, and who's, improbably, having an affair with his daughter's best friend. And while there's plenty of opportunities there for almost-getting-caught-kissing-type capers, it's also somewhat Weinstein. Then there's the daughter, who's in therapy thanks to Sando sleeping with her fiancé and having a child with him, which, again, doesn't seem that hilarious in the era of #MeToo (especially after the scene where Sando sleeps with a junior colleague she's promised a promotion to).
But, hey, don't worry about any of that, there are still those two gags we mentioned earlier. And, also, this was just episode 1. A sitcom doesn't need to be funny in episode one, it's where the characters and the premise are set up. No Australian sitcom is ever funny in episode 1. You wait until episode 2, that's where the laughs'll be at. For sure.