We all knew this day was coming, and it seems "this day" is this Wednesday: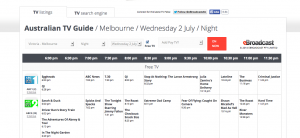 Did you notice? No, not that ABC2 is repeating Mad as Hell – too much Micallef is never enough in our book – but that the Wednesday night ABC1 comedy night is no more.
Yes, there's a repeat of QI at 8pm. Yes, there's a repeat of Julia Zemiro's Kitchen Rules at 10.13pm. But inbetween? A documentary about Lance Armstrong? What's so funny about that?
So time for a moment's silence for the ABC's Wednesday night Australian comedy line-up. From its origins back in 2005 with Spicks and Specks and We Can Be Heroes, through the glory days of The Chaser's War on Everything (season two), The Gruen Transfer and Summer Heights High, to the ABC taking a massive shit all over it with Randling, The Elegant Gentleman's Guide to Knife Fighting and Tractor Monkeys, it at least made it easy for fans of Australian comedy to know where to look.
We're guessing that the ABC will try and keep Wednesday night comedy ticking over once Gruen and The Chaser are back – you know, shows that would rate well no matter where the ABC scheduled them – but as for newcomers… yeah, good luck. Without the Wednesday night stronghold you'll have to sink or swim on your merits. Which, considering the general public's perfectly justifiable attitude that most Australian comedy is unfunny try-hard crap, basically means you're screwed.
And so we return to the dark days of the early 21st Century, when the ABC scheduled comedy anywhere they had a gap. Remember the Monday 8pm comedy slot occupied by The Games? What about Tuesday nights at 9.30pm, when the ABC would ditch halfway decent UK stuff like Spaced? Or even Thursday nights, which is where the first four episodes of Eagle and Evans ran in 2004 before it was pulled off air for two months before resuming late night Fridays?
Whatever you think of The Chaser quality wise, you'd be hard-pressed to deny they've been a major comedy asset for the ABC over the last decade. So maybe now's a good time to point out that they were basically dumped by the ABC after CNNNN, and when they returned to do The Chaser's War on Everything it was broadcast on an "unstable" Friday night timeslot – basically, it aired whenever the UK murder mystery shown at 8.30pm wrapped up. Ratings were good for 2006 but not great; around 800,000 at the peak.
So for 2007 they were moved to the 9pm Wednesday timeslot after Spicks and Specks. Hey presto, ratings doubled: 1.5 million was not unheard of. Was the second series twice as good as the first? That's a no. In fact, a few high profile yet pointless stunts aside (this was the time of the APEC Motorcade stunt), the second series seemed repetitive, worn-out, and heavily reliant on cheap stunts. But it rated twice as well! Because people knew where to find it!
The ABC won't be making that mistake again.