Mother and Son is a great sitcom premise. A single guy in his 30s, in precarious employment – and an even more precarious state when it comes to his love life – is forced to live with his elderly mother, and deal with her stubbornness, erratic moods and encroaching dementia. He can't leave because who'd look after his mother, and despite her behaviour towards him she doesn't want him to go. Drop these two characters into any number of situations and the interpersonal tension between these two forced-together people should result in comedy gold.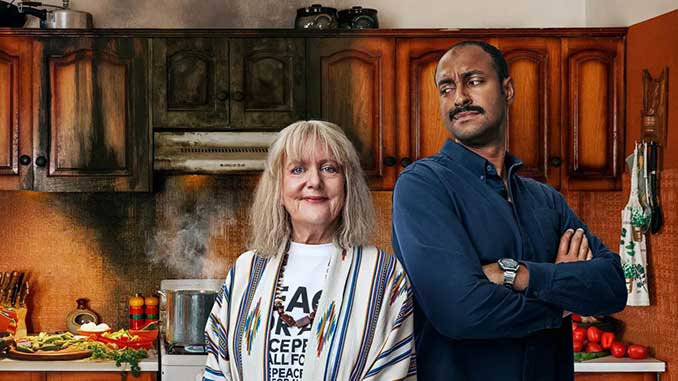 That's should result in comedy gold. And we stress the word should because the biggest single problem with this reboot of the classic 80s/90s ABC sitcom Mother and Son is that so much about the way it's been made seems to be working against it being comedy gold.
Everything about the show looks gorgeous – the sunny weather, the cool local eateries and shops in the on-the-verge-of-being-hip suburb the show's set in – yet making things feel optimistic and aspirational isn't how you get laughs. The comedy of Mother and Son comes from the bleak reality of Mother Maggie and Son Arthur's situation, and the original series, starring Ruth Cracknell and Garry McDonald, with its old-fashioned studio set, and its old-timey musical title sequence, set the tone a lot better.
Also, what was supposed to be funny (or enlightening? Or anything?) about the scene where Maggie (Denise Scott) has a dementia moment, and the audience experiences her brain fuzz and confusion? We know she has dementia, that's already obvious, and it doesn't make the show funnier to include this scene, so why is it there? Indeed, lots of the scenes weren't meant to be funny – the ones which touched on a social issue or built on the romance subplot, say – so why were they there? What's with the idea in modern sitcoms that tugging at the audiences' heartstrings is a better thing to do than make the audience laugh?
Sure, Mother and Son did include some decent comic ideas – like Maggie and Arthur (Matt Okine) getting caught up in a racist conspiracy protest, or Maggie's brief romance with a cactus fanatic – but that didn't quite make up for the show's lack of commitment to comedy otherwise.
Only Denise Scott, and Jean Kittson as Maggie's old nursing friend Heather, brought the big laughs. But then, you'd expect comedy performers of their experience to know how to play a script for maximum laughs. Okine was an okay Arthur, but Scott, when she was given a chance to be funny, was every bit as good as Ruth Cracknell – and that's not easy.
Had the makers of Mother and Son spent more time coming up with jokes and situations where Maggie could be funny, or even just more sight-gags involving questionable cacti, they might have had a winner on their hands. What we have instead is yet another show that either won't commit to comedy, or wasn't funny enough as a comedy to start with. We assume given it's 2023 it's the former, but the quality of the comedy that was attempted suggests there was a generous dose of the latter too!