Stan's new comedy C*A*U*G*H*T is the sort of show no one expected in 2023. It's not a dramedy with depressing subplots about death and mental illness, it's a pure comedy which just wants to make you laugh. Think big comedy performances, with digs at celebrity culture, action films, social media, and contemporary politics. Plus dick jokes. There are lots of dick jokes.
"I really wanted to make this in the vein of Australian classics like Priscilla, Crocodile Dundee, and Muriel's Wedding," creator and star Kick Gurry told the Sydney Morning Herald recently. Maybe, but C*A*U*G*H*T feels more like an Ozploitation film meets Hot Shots! or Team America: World Police. With maybe a dash of the British TV series/films The Comic Strip and (here's a deep cut) Whoops Apocalypse.
Either way, when four unlikely (read idiotic) soldiers are sent on a mission to delete compromising material from the mobile phone of the Princess of Behati-Prinsloo, a (fictional) war-torn island in the South China Sea, and the compromising material turns out to be a dick pic sent by the Australia Defence Minister (Erik Thomson as the gloriously self-obsessed Colonel Bishop), you know this show isn't aiming to be a serious drama.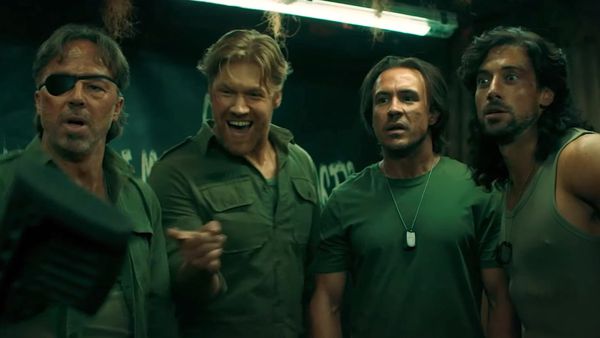 What follows is a complicated, and sometimes scattershot, romp in which the four soldiers (Ben O'Toole, Kick Gurry, Lincoln Younes and Alexander England) and some Americans who happen to be in the area, are captured by local freedom fighters (Mel Jarnson, Dorian Nkono and Fayssal Bazzi), and in a desperate attempt to stay alive, collude with the fighters by creating hostage videos and other social media content which will further both their causes. The videos are picked up by various media, including Nine's Today and A Current Affair (look out for cameos from Karl Stefanovic and Allison Langdon), British journalist Penny Primberhurst (Tuppence Middleton) and disgraced Today co-host, now independent live-streamer Josie Justice (Rebecca Breeds).
Josie, following a tip-off from her sister Jemima Justice (Bella Heathcote), who just happens to work for Colonel Bishop, heads off to Behati-Prinsloo to get an interview with the freedom fighters and find out what's happened to the soldiers. Meanwhile, Australian Prime Minister Warren Whistle (Bryan Brown) and US Secretary of State Alaska Adams (Susan Sarandon) get involved in the crisis, as does Hollywood actor Sean Penn (Sean Penn), who's recently embarrassed himself on Today whilst trying to promote his charity and wants redemption.
In fact, almost all the characters want redemption, or fame, or simply to stop foreigners from taking their land and destroying the local environment to build luxury golf courses. And in 2023, redemption, fame and fighting for your cause means one thing: telling your story on social media. Indeed C*A*U*G*H*T gets a fair bit of comic mileage out of various characters' self-obsessions, particularly those that involve online mediums. There are also lots of gags about the art of acting and the Australian film and television industry, thanks to one of the soldiers being a failed former actor. And a few digs at politics too, with Prime Minister Whistle (an unholy mash-up of Bob Hawke and John Howard) getting into a Scott Morrison versus Johnny Depp-type battle with Sean Penn.
To say there's a lot going on in C*A*U*G*H*T is an understatement. Maybe there's too much going on, because at times the plot is disjointed and hard to follow, and it feels like a few scenes which might have made things clearer hit the cutting room, perhaps to shorten the run time. (Seriously, what was the deal with Colonel Bishop sending a dick pic to the Princess? They must have shot a short scene explaining that one.)
But while C*A*U*G*H*T is a bit of a mess, it's an extremely watchable and mostly funny mess, packed with enjoyable performances, sharp lines, well-realised slapstick, and on-the-button parodies. To say Australia doesn't make enough shows like this is an understatement. With Mad As Hell no longer on the air, we really lack shows which have things to say and want to make us laugh. It would probably be difficult to make a sequel to C*A*U*G*H*T, but more programs with the same sensibility would be very welcome.