Considering one of the first Australian comedies out of the blocks last year was a local version of British favourite Would I Lie To You? it's perhaps not a surprise that we start 2023 with an Australian take on Taskmaster. Original concepts are not what we can expect from Ten at this point in history.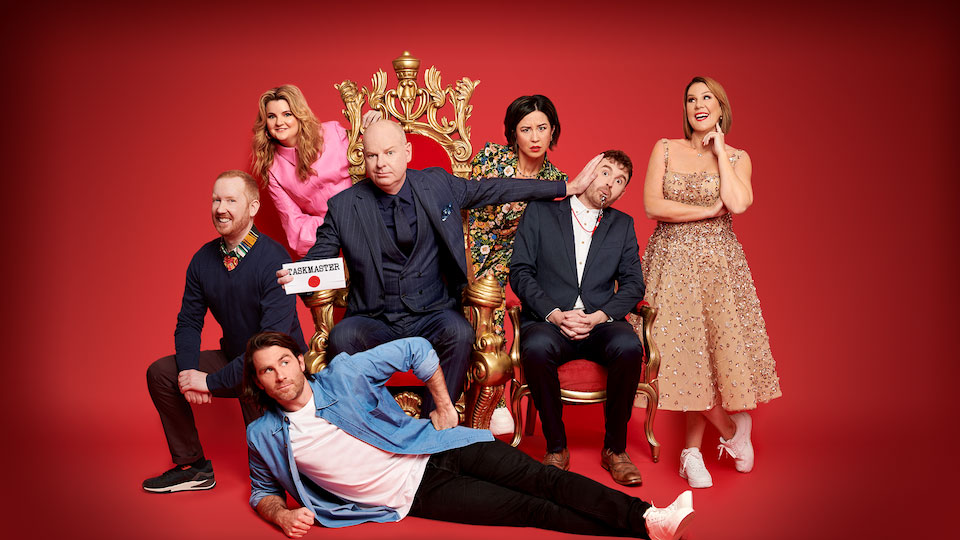 For those not familiar with one of the several international versions of Taskmaster, the show sees a Taskmaster (Tom Gleeson) and his assistant (Tom Cashman) setting five regular contestants (Danielle Walker, Jimmy Rees, Julia Morris, Luke McGregor, and Nina Oyama) a series of odd and challenging tasks. In the first episode, these are:
Getting a balloon out of a caravan without touching the balloon or the caravan.
Making a short video about your life in just 45 minutes.
Juicing enough oranges to fill a glass, only touching the oranges with the small number of objects on the bench.
A knockout round, where the contestants must throw some everyday items nearest the edge of the stage.
Given everyone involved is a comedian, and that the tasks are a bit off-beat, you might expect all this to be funny. It isn't particularly, although the contestants try to make it so.
The best opportunity for comedy was, unsurprisingly, the life story video task, where the contestants' script-writing and improvisational skills resulted in some amusing short pieces. The other tasks were more the kinds of things that might provoke debate amongst those watching the show with other people. Should that contestant have used that object to juice the oranges? Or that method to get the balloon out of the caravan?
Overall, this places Taskmaster more in the realm of the light entertainment stunt or prank show, except there's less opportunity for slapstick laughs. At least, there was in this first episode.
It's also worrying that two kinda similar "no touching" tasks are in the first episode. Are we going to get a lot of tasks which are slight variations on previous tasks across this series? That doesn't bode well given there are nine more episodes of Taskmaster to come.
On the plus side, if you've had enough of Tom Gleeson's schtick on Hard Quiz, the focus of Taskmaster is more firmly on the contestants, and so there's less opportunity for Gleeson to do his smarmy high-status humour. Gleeson does get to shine during the scoring, though, and takes delight in disqualifying a contestant on the slightest whim.
Not that who wins necessarily matters. This is about being as entertaining as possible within the confines of the task. Sadly, Taskmaster's definition of "entertaining" doesn't quite mean "being really funny".