Turns out the ABC has given heaps of young people opportunities recently! And not almost none like you thought. An article published on TV Tonight yesterday lists them all:
Kurt Fearnley's One Plus One, interview show hosted by Fearnley when he was 39.

Courtney Act's One Plus One interview show hosted by Courtney Act.

The Set music show hosted by Dylan Alcott and Linda Marigliano.

Win the Week quiz show hosted by Alex Lee.

Tonightly, comedy / variety hosted by Tom Ballard.

Aaron Chen Tonight, comedy show hosted by Aaron Chen.

A Dog's World factual series presented by Tony Armstrong.

India Now, Stuff the British Stole, The School that tried to End Racism, presented by Marc Fennell.

Q+A, forum show previously hosted by Hamish MacDonald at 39.

Good Game: Spawn Point gaming show hosted by Angharad "Rad" Yeo, Gemma "Gem" Driscoll.

BtN, news for kids hosted by Amelia Moseley and Jack Evans.

Question Everything, co-hosted by Jan Fran.
When you have to include people who were 39 when they started on the ABC, or hosted shows which were axed five years ago, or started out as hosts on other networks, you know there's a desperate argument being made.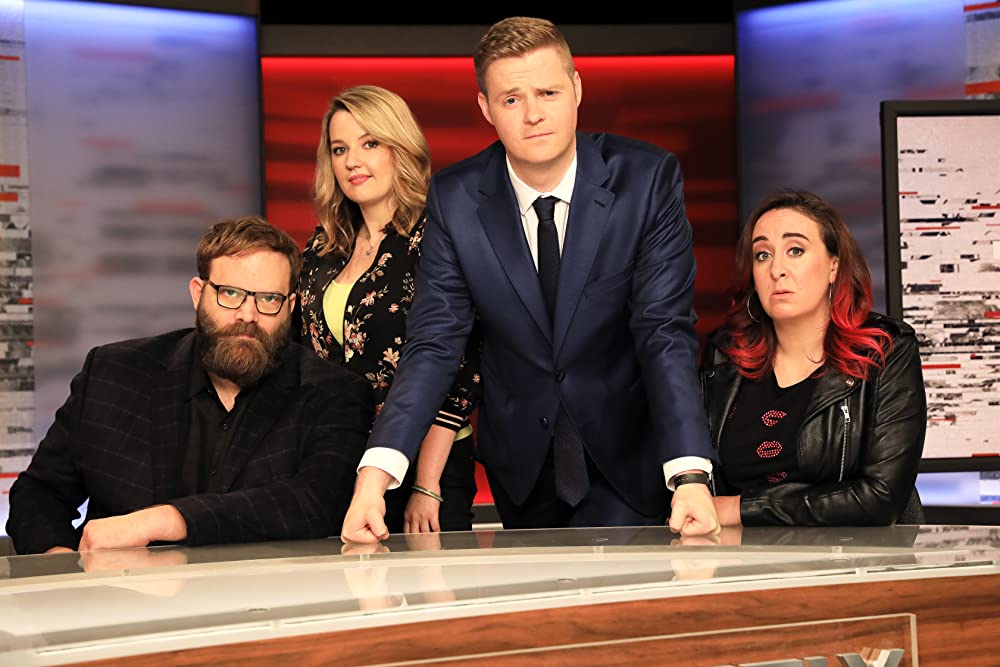 And, yes, we know things are difficult for the ABC right now. The article rightly mentions how years of budget cuts have prevented the ABC from commissioning shows featuring new talent:
After previous governments impacted ABC funding, the broadcaster publicly stated it would no longer commission shows to screen after 9:30pm. It's largely stuck to that rule, with a few exceptions.

But post 9:30 was previously a playing field for younger talent to develop 'off Broadway.'

Emerging comedy acts such as The Chaser and a young Wil Anderson in The Glass House began life in 9:30 slots or later. Looking further back, so did names such as Rob Sitch, Santo Cilauro, Marg Downey, Michael Veitch, Magda Szubanski and Tom Gleisner in The D-Generation.

The former comedy channel was also home to Tom Ballard's Tonightly and ABC2 for a young Aaron Chen. In primetime there are less chances to take risks on new comedy acts, although Question Everything is adding some to its panel.
Wow. "Adding some to its panel." That must be a great comfort for any newcomers out there trying to get on TV.
It's not hard to see why talented younger people feel cheesed off at the lack of opportunities. Or why this story isn't going away.
The mention of ABC2 is also interesting – five years ago (which is when Aaron Chen Tonight aired), there was a clear policy of shifting the obvious "young people" shows over to what would become ABC Comedy (and is now ABC TV Plus). There they rated poorly, were axed, weren't replaced, and the whole channel went repeats-only as far as local content goes.
At a guess, we'd say the problem was that when the then LNP government started seriously cutting back on ABC funds, ABC2 (and youth programming in general) were seen as the easiest stuff to cut. Especially as ABC management were willing to shuffle their priorities to suit Canberra.
A plan to give opportunities to younger hosts was there. Problem was, it was set up to fail in an era of declining funding. In the battle between regional coverage, a rusted-on older audience and Australia's youth, the kids were always going to go under the bus. Shifting their programming to ABC2 just made it easier to do out of sight.
But now that there's a Labor government, and more funding is (presumably) on the way, how should the ABC deal with this? Well, a better tactic than some desperate PR would be for the ABC to commission some shows hosted by people in their 20s and commit to airing them for more than a couple of months. Or reduce the number of shows it makes aimed at older audiences thereby releasing funds for new programs fronted by young people.
Keeping on making shows aimed entirely at an ever-ageing audience is not a viable long-term strategy. Unless irrelevance and obsolescence is the ABC's goal.