Question Everything is back. For those of you thinking "hang on, a panel show taking a satirical look at the week in news? Didn't Win the Week just finish up?" let us reassure you that yes, they are the same show.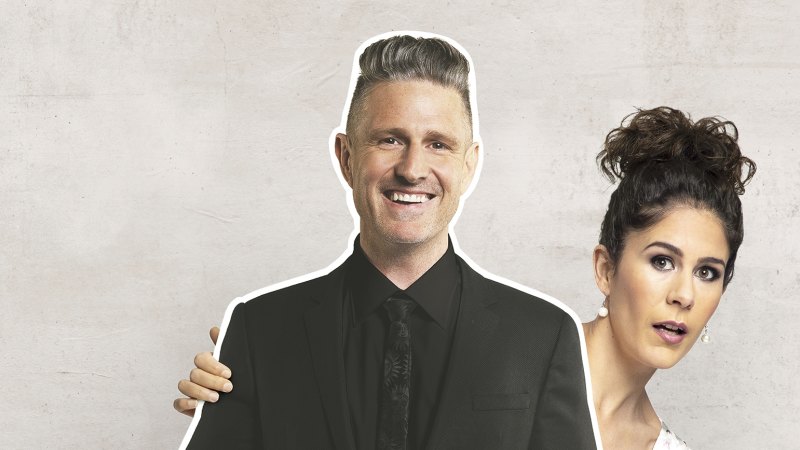 In much the same way that The Weekly and Mad as Hell (RIP) covered roughly the same territory but only one of them was good at it, Question Everything covers the same ground as Win the Week, only the good version is Have You Been Paying Attention?, closely followed by The Cheap Seats.
They're even covering the same news stories (again). Yes, the "how much would you pay for a hug" report gets its second comedy beat-down of the week. News flash: The Cheap Seats did it better.
So this is the third best news comedy show on this week: does that mean it's complete shit? Well… not exactly.
The first series stumbled around trying to have a "premise" and a "reason to exist". This year they've thrown all of that out the window – despite claiming they'd be revealing the facts behind the fake news in their promos – and just gone with "here's a news story, lets make jokes about it".
Host Wil Anderson brings up the basics of a news story, then asks each member of the three person panel for their jokey take on it. Pre-scripted hilarity ensues, though being pre-scripted does means the jokes are usually halfway decent. Unless they're coming up with wacky captions for a photo of Ben Affleck, which is the kind of thing that used to take up a third of Hey Hey It's Saturday.
It's important to note that there's no insight provided into the actual news aspects of the story. This is just yet more news jokes based entirely on whatever humourous angle is most obvious. Maybe they should do a segment on how their own promos turned out to be fake news?
Fortunately, based on the first episode at least, they have found some decent panelists. That's 80% of the battle with these shows. If you don't get a smile from Matt Parkinson revealing that the solution to dog shit (and every other world problem) is "leave it to the ants", fair enough; it's still a step up from whatever they were blathering on about between questions on Win the Week.
This shift in focus does however have one drawback, in the form of co-host Jan Fran. She now has nothing whatsoever to contribute beyond a few show-stopping (and not in a good way) "fact checks" where she reveals the boring truth behind whatever it is the panel have been yukking it up about. You'd assume she'd be quietly phased out if she wasn't all over the promos.
The result is not quite Gruen News, but only because they've gone with halfway decent comedians rather than news experts. It's pretty much the same structure – there's even a "come up with your own wacky news headline"* segment – with the same host doing his same shtick. Wil Anderson smokes dope: who knew?
This is basically a superfluous lump of more of the same packed into an already crowded market. It's also an improvement on the previous series. It's not a show anyone wants or needs, but if the ABC is determined to have a schedule consisting entirely of panel shows where comedians make jokes about "the news" – meaning wacky minor stories from breakfast TV rather than the actual serious events that affect our lives – they could (and have, and will) do worse.
Whether they should try to do better is another question entirely.
.
*Mad as Hell used to mock shitty tabloid headlines, now its replacement has comedians making up their own versions. There's a moral there somewhere