Are you happy with Saturday's election results? The ABC and SBS must be:
An Albanese Labor Government will provide certainty for the national broadcasters, the ABC and SBS, by providing them with five-year funding terms.

This five-year funding commitment is in addition to Labor's previous commitment that an Albanese Government will reverse Scott Morrison's cut of $83.7 million to the ABC.

It is essential to bolster the independence and stability of the national broadcasters as a guard against political interference in Australia's democratic institutions.

Source: https://www.alp.org.au/policies/better-funded-abc
And while there's no mention of more money for comedy in Labor's pledges, apart from a vague pledge to support local programming and production, a better-funded ABC and SBS is always a good thing.
This year's Federal Election was notable, in comparison to those in the past decade or so, for the lack of election satire on the ABC. Gone are the days of Chaser specials and other election-themed comedy programs. In 2022, we got a couple sketches from Mark Humphries and Sammy J (as part of their regular runs), the usual half-arsed coverage from The Weekly (which was also on-air anyway) and two episodes of Gruen Nation. Making Gruen Nation the only election special the ABC had the money for.
The second episode of Gruen Nation, which aired days before election day, distinguished itself by including the prediction from panellist Toby Ralph – a man described on the website Pimiso as a marketing strategist for cigarette firms, nuclear waste corporations, live meat exporters, Murray Basin irrigators and banks, who worked on all of John Howard's election campaigns – that the Teal Independents were "losers". That aged well.
Meanwhile, over at The Weekly, we saw the culmination of their running segment "The Ricky Muir Award for the obscure candidates we hope will hold the balance of power largely for our own entertainment." Like Ralph's prediction about the Teal Independents, this segment also looks like an idea that failed to read the room, for if Saturday's results tell us anything it's that Australians are sick of blowhards and joke candidates and want serious and intelligent politicians in office who'll do something about issues such as climate change and corruption.
Ironically, the winner of the Ricky Muir Award was independent Victorian Senate candidate Max Dicks, who was standing on issues including climate change and corruption. Although the reason he won the award was because a) he's a bit eccentric and b) he has the surname Dicks. And while all the dick pun was kinda funny for the first 20 seconds, The Weekly were really stretching the point once they got past minute two.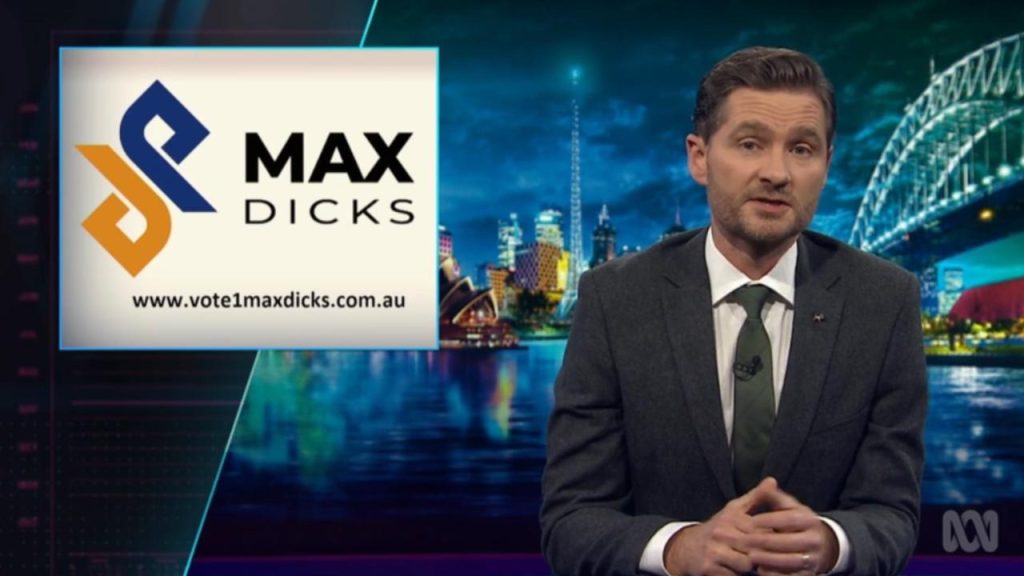 Dicks, in case you're wondering if the publicity boost saw him win a seat in the Senate, polled just over 1,300 votes. So, back to whatever he does normally for him.
And back, too, to whatever it's trying to do for The Weekly. It'd be nice to think that a funding boost for the ABC might trickle down to The Weekly and enable them to, say, hire more writers and be funnier, but we doubt it. Can you imagine them ever doing anything as funny as the recent finale of Mad As Hell, with the Kraken in an "It's Time" t-shirt? We can't.