Hughsey We Have a Problem is back for 2021, which is great news for people putting together a Hughsey soundboard for their all-robot commercial radio station and barely worth a shrug for the rest of us. A panel of Australian "celebrities" banter amongst themselves and occasionally solve people's problems in between the kind of guest appearances that used to be a mainstay on talkshows back when there were talkshows? Yeah, we'll be over here watching pretty much anything else.
That's just our personal taste, mind you. Right from the start Hughsey We Have a Problem has been refreshingly clear about its objectives and while any objective that involves giving Kate Langbroek airtime is one we oppose, we're not going to pretend that she's not popular*. The Hughsey / Langbroek pairing was a massive radio draw for years, the roster of supporting guests is usually decent, people like Hughsey, it features Hughsey doing his Hughsey voice Hughsey Hughsey Hughsey.
So why the hell has it suddenly turned into a game show?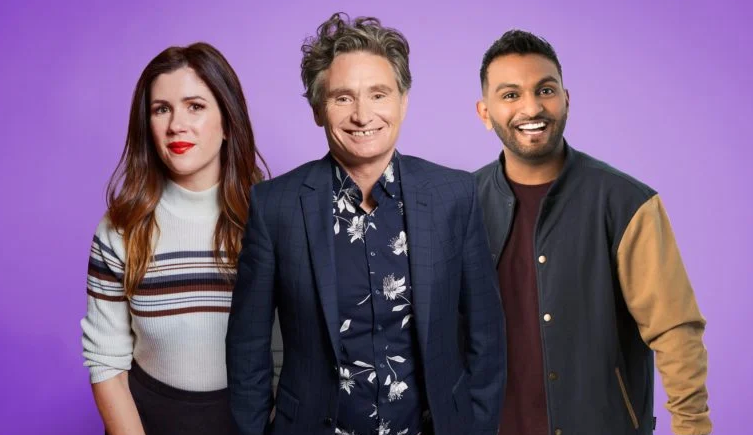 Seriously, we're not making this up: now Hughsey is handing out points to panel members for how well they've solved someone's problem, and the winner at the end of the night gets (a legally binding document releasing them from any and all commitments to ever appear on the show again? – ed) a crap glass trophy knocked up by a nearby locksmith. Why?
While we can think of plenty of reasons why this is a bad idea – it adds nothing to the show, it's a pointless distraction that the show barely commits to, how is it even a competition if Hughsey is just awarding points for advice (maybe wait and see if the advice actually helps?), an advice show is not a game show, and so on – the only reason we can think of to go ahead and do it is because some network executive shouted at a meeting "be more like Have You Been Paying Attention!" and they realised they sure couldn't be as funny.
Aside from this jaw-dropping decision which is honestly one of the stupider things we've seen Australian television do in a long time and we watched Sando, the rest of the show was… eh. The first problem was "some people are worried about taking the Covid vaccine" which seemed more like a topical news story than a problem considering Australia doesn't currently have the covid vaccine, so presumably that HYBPA-loving network executive rang up with a few more notes.
Cast-wise, Becky Lucas and Nazeem Hussain are now series regulars, which might be worthwhile but only if Lucas continues to wear that "what the fuck am I doing here" expression she had at the start of this episode. At least the guests managed to liven things up a little; Gary Busey had his face cleaned by a parrot, so that's something. And speaking of washed up movie stars, Ross Noble is now dressing like Steven Seagal, which is never a fun comparison to make.
These shows live or die by the panel banter and thanks to some fairly obvious editing it all moved along reasonably quickly even when the gags themselves were nothing special. If HYBPA is like the best 5% of Australian commercial radio brought to television, this is closer to the endless call-in segments that make up the rest of Austereo's "comedy" output. But you get to see Hughsey with combed hair, so that's something.
The real comedy highlight was early on when Ross Noble had just made a joke, the camera was on him and suddenly Kate Langbroek screeched out "No!" so obviously they cut to her. Yelling over the top of people to get attention has been her deal since her Triple R days and it's clearly working for her; why change now?
(we did mention the show's crap ratings, didn't we?)
.
*though possibly not that popular