Three or four Prime Ministers ago, Tony Martin announced that he'd dropped off his collection of recordings of Martin / Molloy – the drive-time radio show he did with Mick Molloy in the latter half of the 90s – at the Australian National Film and Sound Archives (or NFSA).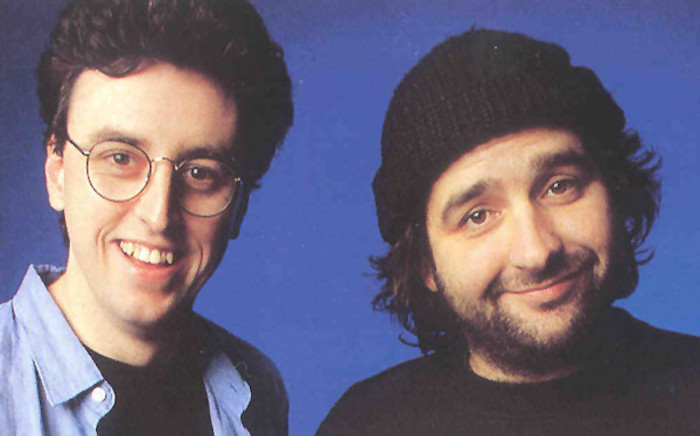 Fans rejoiced: aside from the three best-of CD compilations and some off-air recordings, much of Martin / Molloy had been lost to fans since it first aired.
Then… not much happened. Until now!
As the NFSA press release said:
The Martin/Molloy program, named for its star comedians, Tony Martin and Mick Molloy, ran on Australian radio from 1995-98.

Produced at Austereo's Fox FM in Melbourne, it was broadcast live on up to 54 radio stations across Australia during this time.

The fast-paced, sketch-based format had previously been restricted to breakfast radio; the idea of such a show working in late afternoons (4pm-6pm weekdays) seemed far-fetched to some radio insiders, however, Martin/Molloy was a ratings success, and quickly grew from being broadcast on just Austereo's metropolitan stations to airing around Australia.

An entire generation of drivetime radio comedy-talk shows followed and this format remains the backbone of the major commercial FM networks in Australia to this day.

Tony Martin gifted the original recordings of Martin/Molloy to the NFSA in 2013, and he says, "Not only have the NFSA finally completed the mammoth task of digitising the Martin/Molloy archives, now they've gone and inducted us into their Sounds of Australia. As fans of our show would recall, some of those sounds were rather rude, but as a massive radio nerd – and a New Zealander – this is a huge honour."
As part of this honour, the NFSA have put up a collection of clips on their website – we found a bunch by searching for "Australian comedy" but "Martin / Molloy" might work even better – and they're well worth a listen, both for being actually funny and as a window to a long-forgotten time when actual scripted sketches were still a thing on Australian radio.
As a bonus, each clip comes with a paragraph or two of scene-setting info (ie "[this sketch] also features some of Mick Molloy's trademark yelling") putting the piss-farting about into context, which is probably useful considering the show is well over twenty years old now.
Not that John Howard jokes will be going out of style any time soon, more's the pity.