This week saw the two hundredth episode of Have You Been Paying Attention? and the show feels as fresh as it ever did. We say "fresh" but we could have gone with "timely", or "thrilling", or "topical", or any number of words that don't necessarily start with "t": HYBPA? came out of the gate strong and hasn't really shown signs of slowing no matter how many sponsors they add, which is good news both for producers Working Dog and Australian television in general.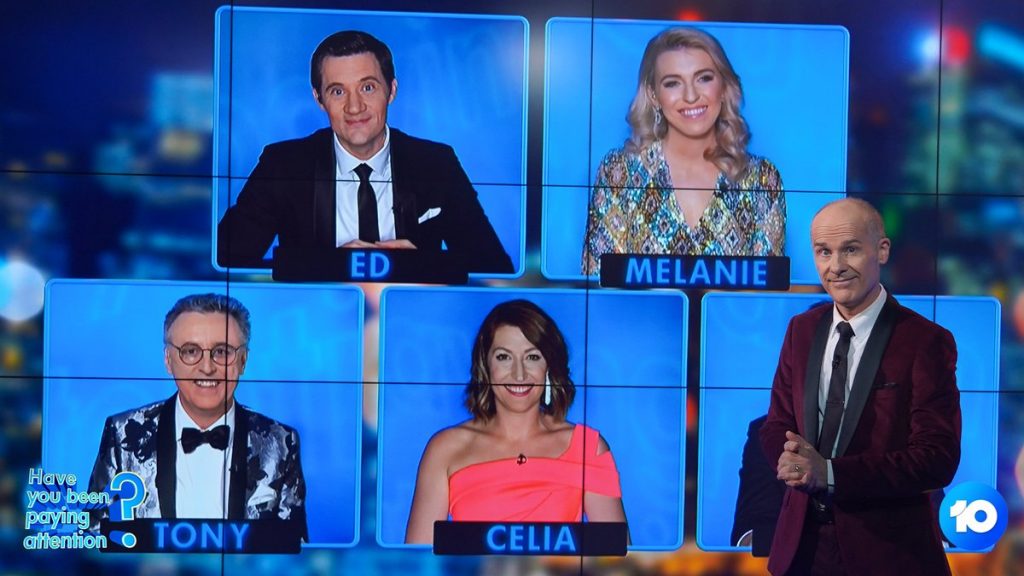 Working Dog have been fond of the daggier aspects of culture – especially Australian culture – since the days when you could make comedy programs based almost entirely around making fun of daggy Australian culture. Sadly, Australian culture is in short supply these days, which is why HYBPA? looks globally for its subject matter. But you can't get much daggier than a TV game show, and HYBPA? has proven to be the perfect match – and just possibly final resting place, as they're all edging closer to retirement age and the show shows no signs of stopping – for their not inconsiderable comedy talents.
The merits of HYBPA? are on display pretty much every week. The pace is fast, the jokes are decent, it doesn't take itself too seriously, and the roster seems to have settled down, making each week's show much more of a sure thing than it used to be back in the day when it was more of a celebrity showcase. Even the complaints about the jokes seeming "too scripted" seem to have faded away, though you're on a pretty safe bet a lot of the time if you expect two comedy answers before the correct one.
It definitely doesn't hurt that Tom Gleisner is a truly great host, which is to say he keeps the pace fast, his jokes are decent and he doesn't take himself too seriously. He's the rare Australian game show host – and probably the only Australian comedy game show host – who acts like the show itself and not just his own screen time is what's important. Whether it's thanks to his lengthy career or being one of the show's producers, he's a funny guy who knows that as the host he's there to support the guests, which goes a long way towards making the whole effort run smoothly.
Much like Gleisner himself, the show's off-screen achievements often fly under the radar. For one thing, it's the show that destroyed the ABC's attempts at panel comedy. If you've ever wondered why, with the ABC currently struggling to afford programming more complicated than pointing a camera at a wall, they haven't stuck a bunch of comedians up against that wall and got them to banter away for half an hour a week, you have HYBPA? to thank.
Up until relatively recently, we'd get a handful of shit comedy panel / game shows on the commercial networks each year – remember Behave Yourself? Cram!? Those shows Rove would do with little kids? But while both Seven and Ten would occasionally try a bit of late night panel comedy then quickly pretend it never happened (unless it was sports related, in which case it'd run for a decade), the ABC – no doubt inspired by the UK's seemingly never-ending range of comedy panel shows and the glory days of Good News Week and The Glass House – wouldn't let go of the comedy panel concept.
Spicks and Specks worked; Gruen is a television series they still put to air. But otherwise? Even the ones that were good weren't that good, and the ones that were bad were awful. Randling? Tractor Monkeys? How Not to Behave? At least one of Peter Helliar's sports shows? Having HYBPA? corner the market was a mercy, and it wasn't until Hard Quiz – which is no more comedy than that run of early evening quiz shows hosted by Paul McDermott that everybody's forgotten – that the ABC managed to keep a prime time quiz show alive.
In theory, of course, there's room for more than one comedy panel show on Australian television. The talent is definitely there, and it's not like putting some comedians behind a desk is expensive television. But thanks to close to a decade of what can only be described as "fucking it up", the ABC is out of the panel show business. This was sweet relief in 2017, but now? They should maybe take a look at all those former HYBPA? regulars who can't get a gig this year* and think about taking another crack at it.
If nothing else, HYBPA? has shown that the way to make a comedy panel quiz show work is balance. Panel shows often go after big name guests and deliver a bunch of aimless banter; quiz shows focus too much on the questions; game shows end up taking a third of the show explaining the rules. What needs to come first is comedy: get that right – make sure you go for people who are funny and give them a format where every joke counts – and the show takes care of itself.
Here's hoping HYBPA? keeps on showing the rest how it should be done for another 200 episodes.
.
*ha ha, who are we kidding – a 2020 ABC comedy panel show would be Benjamin Law, Annabel Crabb, a couple of ex Triple J announcers, Ray Martin, some head of a literary festival and your host Joe Hildebrand